New Zealand has many popular tourist destinations that continue to attract travellers from all over the world, none more charming than the small coastal town of Kaikoura.
Located 181 kilometers (2 hrs 26 mins) north of Christchurch on the South Island, Kaikoura is nestled between the Southern Alps and the South Pacific Ocean.
With only a couple of thousand permanent residents, Kaikoura is the perfect setting for a relaxing, memorable holiday without the hustle and bustle of everyday living.
It's often difficult to appreciate all the activities holiday destinations have to offer, especially if it's your first time visiting. I've always found that upon subsequent visits, I discover places to go and things to do that I initially missed and didn't know existed.
(Kaikoura Peninsula Lookout In The Evening)
Attractions & Activities
Depending on the duration of your stay and allocated budget, fitting everything you and your family would like to do in Kaikoura can be difficult. So, I've decided to put together a list of available activities to choose from when planning your New Zealand holiday.
1. ) Whale Watching Tours
Kaikoura is best known for its whale watching which continues to drive ecotourism each and every year. The season begins in the warmer months from November and continues through till March. If you're lucky you might have the opportunity to catch a glimpse of the annual whale migration from the shoreline or top of the peninsula.
Ocean Cruises
If you wish to get up close and personal you'll need the buoyancy of a cruise ship or sailboat. Weather permitting tour operators set sail multiple times throughout the day to accommodate busy travel schedules.
Booking your first Whale Watching Tour which will set you back around $150 NZD per adult and $60 NZD per child (3-15yrs). Wheelchair accessibility is available for passengers with limited mobility and additional support as required.
Scenic Flights
If you suffer from seasickness, don't worry because you can still experience the whale's migration via helicopter or plane flight. With the added benefit of breathtaking views of Kaikoura and the surrounding mountain ranges, flying will give you a unique perspective for whale watching that you won't get from the crowded deck of a cruise boat.
Selecting the right tour operator can be difficult especially if you're not entirely sure which mode of transport (eg. helicopter or plane) will provide you with the best vantage point and most memorable experience.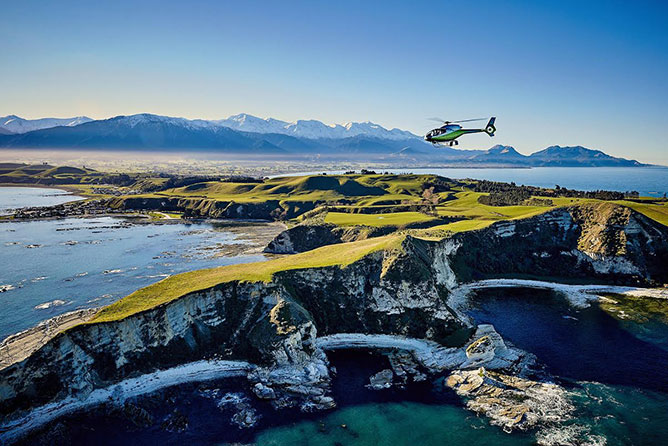 (Kaikoura Peninsula – Image By Andrew Spencer)
By Helicopter
Scenic flights via helicopter can provide a unique, stable perspective whilst admiring the day to day activities of local marine wildlife (whales, seals and dolphins) in the deep ocean waters of the south pacific off Kaikoura Peninsula.
Family owned and operated South Pacific Helicopters (established in 2016) offer a range of whale watching and scenic flight packages starting from $350 NZD for 30 minutes of lifetime memories.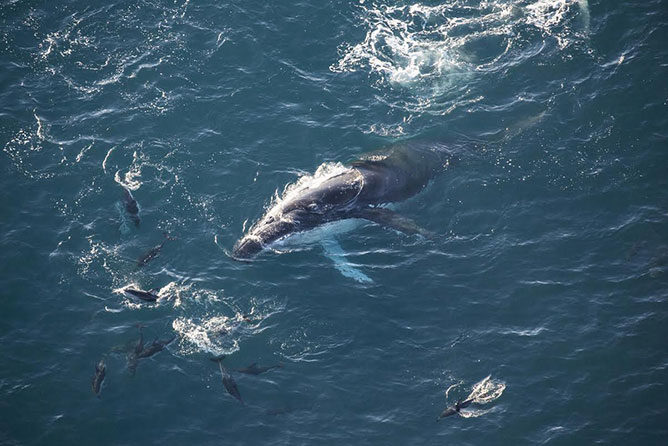 (Marine Wildlife – Image By Fiona Wardle)
By Plane
If helicopters don't entice you, perhaps the safety of high winged aircraft with unimpeded views is more attractive.
Wings Over Whales (also owned by South Pacific Helicopters aviation family) highly trained pilots operate regular flights tracking the migration of whale pods along the Kaikoura coastline against the backdrop of the Southern Alps. Aerial flights start from approximately $180 NZD per person for 30 minutes.
Historical Points Of Interest
If whaling doesn't offend you or perhaps it does, but you're still interested in the colonial history of Kaikoura don't forget to visit Fyffe House, one of the town's oldest surviving buildings. Originally established as a whaling station in 1842, Fyffe House was built on whale bones and these unusual foundations can be seen from the exterior.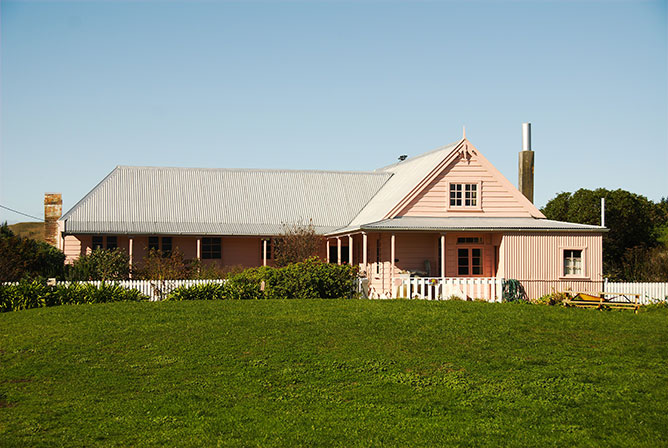 (Fyffe House, Kaikoura – Image By Andrew Mcmillan)
Today, Fyffe House has been restored to its original condition (mid-19th century) and is open to the public as a historic museum. If you wish to visit the Fyffe House there is an entry fee of $10 NZD for adults, $5 for students and children free.
2. ) Kaikoura Peninsula Walkway & Fur Seal Colony
A short drive from my apartment on the esplanade is the peninsula walkway. The walking track can be accessed via Point Kean or neighbouring South Bay. The walk offers spectacular viewpoints which highlight the fur seal colony and hutton's shearwater colony a species of seabird only found in the Kaikoura seaward ranges.
If you aren't prepared to walk very far, I recommend visiting Point Kean where you'll be able to view the seal colony directly from the car park and only requires a 200 meter stroll to the viewing platform.
My first encounter photographing fur seals on the peninsula was awe-inspiring which is why I encourage you take the time to experience these magnificent, majestic creatures.
3. ) Swimming With Dolphins
The marine life that inhabits the coastline around Kaikoura is diverse, plentiful and particularly popular with tourists who have an affinity with the ocean.
Swimming isn't necessarily one of my strengths, but I couldn't pass up the opportunity to snorkel with a pod of wild dusky dolphins. Renowned for their remarkable acrobatics, interactive behaviour and distinct sounds, I found mingling with these local residents stunningly surreal.
Of course, if you'd rather watch the dolphins from the comforts of the boat deck you're more than welcome, it's not compulsory and you'll still have an enjoyable experience that will stay with you for life.
Dolphin Encounter operate multiple tours daily, all year round. Swimming with the dolphins is considerably more expensive than just watching with adults $175 NZD and children $160. However, if you keep an eye out for special deals you could potentially save money.
4. ) Maori Tours
Whenever I travel anywhere in the world, I like to acknowledge and show respect to the traditional owners and custodians of the land. Investing the time to learn about the Maori culture, customs and history will enrich your New Zealand holiday experience.
Kaikoura is home of the Ngati Kuri people which is a subdivision of the Ngai Tahu the largest Maori tribe on the South Island. In total, Ngai Tahu is made up of eighteen different subtribes.
(Hongi – Traditional Maori Greeting)
Maurice Manawatu is a descendant of the Ngati Kuri and operates Maori Tours, a family owned tourism business which is helping preserve the history of Kaikoura for future generations.
They host daily tours of the region where you'll experience first hand the traditions, values and hospitality of the Maori people in a friendly, personal setting.
Half day tours start at 9:00am in the morning and 1:30pm in the afternoon and can be booked online (subject to availability). $134 NZD per adult and $74 NZD per child.
5. ) Sea Kayaking
If you become easily overwhelmed around large groups of tourists and the idea of exploring the Kaikoura coastline on a crowded boat doesn't excite you, then perhaps you'd prefer the freedom that comes with sea kayaking.
Unlike cruise boats, kayaks are relatively quiet and allow users to gently approach and interact with marine wildlife without disturbing their daily activities or habitat. Fur seals are often seen by kayakers hunting, catching and eating octopus before hundreds of seabirds fight for leftovers.
Depending on your level of expertise you can either sign up for a guided tour or choose to hire a kayak and explore the coastline on your own. Kaikoura Kayaks offer half day guided tours which can be booked for $95 NZD per adult and $70 NZD per child. If you wish to hire a kayak prices start at $30 NZD for 1 hour.
I've always found that the downside of kayaking is the amount of upper body strength that is required to propel the kayak long distances. Also, if you're constantly paddling your hands aren't free to take photographs.
Levi's Pedal Kayaks offer unique watercraft's which are propelled by using your feet. If you can ride a bike you won't have any trouble peddling a kayak and taking photos at the same time. As far as I'm aware Levi's only offer 3 hour guided tours (no hire) with their pedal kayaks which cost $80 NZD per adult or $60 NZD per child.
6. ) Cuddle & Hand-Feed Farm Animals
If you're travelling as a family with children you can't go past visiting Kaikoura Farm Park. With over one hundred and fifty different farm animals your children will have an interactive, hands-on experience that they'll remember for the rest of their holiday.
(Kaikoura Farm Park – Over 150 Different Animals)
Owners Lynn and Kevin Cole take pride in caring for their animals and allow the majority to roam freely within the confines of their property. This novel approach provides visitors with the unique opportunity to mingle with a variety of animals unhindered by restraints. The price of admission is $10 NZD per adult, $7 NZD per children (under the age of 14) or $30 NZD for a family pass (4).
However, if you're looking for an extraordinarily, remarkable adventure, Lynn and Kevin also conduct Guided Llama Treks which is a great way to explore the Kaikoura coastline whilst enjoying the friendship of an intelligent llama.
The most popular trek is the half day walk, starting in the centre of town and making your way along the esplanade, stopping off at Fyffe House for homemade baking and refreshments. Then, continuing along the beachfront until you arrive at Point Kean Seal Colony. A half day Llama Trek is priced at $99 NZD per person.
7. ) Ohau Waterfall Walk
A short drive (27km) north of Kaikoura along State Highway One is Half Moon Bay which is best known for the Ohau Stream Walkway and Waterfall. The entrance to the walk is easily identifiable by the designated car park which you'll come to momentarily after passing Ohau Point Lookout.
If long, exhausting treks through the wilderness don't appeal to your sense of adventure you can relax and instead look forward to a leisurely 10 minute walk (280 meters) to the falls.
The waterfall isn't overly spectacular with a height of approximately 15 meters, however due to its close proximity to the ocean, the freshwater surprisingly attracts the curiosity of unexpected marine life.
During the winter months, fur seal pups make their way from the ocean, up Ohau Stream to swim in the plunge pool that has been created by the waterfall. It's a surreal experience watching baby fur seals frolic in the rainforest.
If you wish to observe the fur seals pups, I recommend not making any loud noises as they're easily startled and will make every effort to hide from large groups of people.
Also, don't forget that across the road from the track entrance is the seal pups rookery or colony which is the perfect vantage point for viewing seals in their natural habitat.
8. ) Off Road Quad Biking
If you haven't developed sea legs, prefer to remain with your feet firmly on the ground and seeking an adrenaline rush… I've got the perfect activity for you. How would you like to spend 3 hours exploring the Kaikoura coastline on the back of a quad bike?
Alastair and Anita Trewin from Glenstrae Farm operate 4 Wheel Adventures, an off road quad biking experience unlike any other in New Zealand. Why?… Because this establishment remains a fully functioning, family owned, working farm (only 20 minutes south of Kaikoura).
With over 1600 acres of coastal farmland you'll get to experience riding alongside New Zealand native bush, across open fields, through riverbeds and streams, all whilst taking in spectacular views of the Kaikoura. Plus, you'll also get the opportunity to visit the Hamuri Bluff seal colony.
(Four Wheel Driving On Glenstrae Farm)
If you don't wish to drive, but still want to experience all Glenstrae Farm has to offer, let Alastair personally chauffeur you and your family around in his amphibious 8 wheel Argo. An all terrain vehicle which seats up to 6 passengers and is slightly cheaper than hiring your own quad bike for the day.
No experience is required with full tuition provided on the day which includes basic bike training, assessment of individual rider abilities and briefing of track conditions.
2 ½ hour quad bike ride will set you back $139 NZD. However, if you do not wish to drive and instead be chauffeured around the Kaikoura countryside it will cost $75 NZD per adult and $40 NZD per child (under the age of 16).
9. ) Wilderness Walks, Hiking & Rock Climbing
Whilst Kaikoura is best known for it's ocean activities and marine wildlife, often forgotten are it's land based recreations which don't receive enough credit.
The town is surrounded by the Kaikoura Ranges which are the northernmost part of the Southern Alps and can be seen from the North Island. The ranges are perfect for wilderness walks, hiking, rock climbing and even mountain bike riding.
If you're relatively new to exploring the wilderness on foot and aren't prepared or physically fit, I recommend starting with the Hinau and Fyffe-Palmer tracks which are reasonably short walks that can be completed within an hour or two.
However, if you're an experienced hiker, well equipped and seeking adventure you can choose to hike the Mt Fyffe or Kowhai-Hapuku circuits which require 1 – 3 days of endurance trekking to complete. For safety reasons, I recommend seeking an experts advice, so that you're fully prepared and let your intentions be known with someone reliable in case of an emergency.
If weathering the elements on your own doesn't sound appealing, perhaps you'd prefer the company of a local guide on your journey. Kaikoura Wilderness offer private treks through the globally acclaimed Puhi Peaks Nature Reserve north of Kaikoura which can cost anywhere from a couple of hundred dollars to a couple of thousand.
Whilst this may come across as extravagant, don't forget to consider the benefits which include local knowledge, all meals, lodge accommodation, loan of hiking equipment, pickup and dropoff. Not bad, especially for travellers looking for an adventure, but without the hassle.
10. ) Lavendyl Lavender Farm
After an exhilarating morning filled with adventure, I look forward to unwinding in the afternoon and what better way to unwind than with a relaxing stroll through the gardens of Lavendyl Lavender Farm. It's not hard to relax when the scent of lavender lingers in the air accompanied by the sound of birds singing and bee's buzzing.
Owner Myra McLelland and her family keep the gardens in pristine condition and grow over 50 different varieties of lavender from Miss Donnington, Seal, Scottish Cottage, Impress Purple, Grosso, Pacific Blue and Violet Intrigue.
(Lavender Garden Overlooking Mt Fyffe)
From January through February, they harvest, extract and start distilling the lavender into essential oil which is then allowed to mature for 6 months before being incorporated into a variety of products which they then sell in the gift shop and cafe.
If you wish to learn about how lavender essential oils are extracted, distilled and then stored you can observe this process during these months.
Don't forget to try the lavender honey ice cream, it's delicious.
11. ) Fishing Charters & Tours
The coastline of Kaikoura attracts an amazing array of marine life including Blue Cod, Grouper, Sea Perch, Blue Nose and Terakihi which as you can imagine is perfect for fishing.
The abundance of marine life within these waters can be directly attributed to the underlying Hikurangi Trench which reaches depths of 3,000 meters as close as 80 kilometers from shore. At the southern end of the trench, the seabed rises sharply which is why deep water species can be found close to shore.
There are numerous fishing charters in Kaikoura, all offering similar services with expert guidance, equipment and complimentary filleting of fish. On average you can expect to pay approximately $100 NZD per person for a couple of hours of entertaining angling.
Even if you're not passionate about fishing, the satisfaction of catching and cooking your own fish whilst on holidays is very rewarding.
12. ) Indulge Your Cravings For Fresh Seafood
After reading this article it should come as no surprise to you that Kaikoura is renowned for its fresh, diverse and delicious seafood. It would be a crying shame, if you didn't have the opportunity to taste the region's sensational cuisine which is why I've listed below the locals favourite haunts for indulging cravings for fresh seafood.
So, where do you go to be served fresh seafood like crayfish (lobster), fish, prawns, calamari, mussels, oysters and abalone (paua)? In my mind, there are only a handful of restaurants in Kaikoura that have outstanding reviews with spectacular views and those establishments are the Green Dolphin, The Pier Hotel and Cellar View.
(Green Dolphin Restaurant & Bar)
On the first Saturday of October each year, the town comes together to showcase its spectacular cuisine with Kaikoura Seafest. An event which attracts visitors from all over New Zealand. However, if you're not visiting around this time of year, don't forget that the Kaikoura Farmers Market is held the first Sunday of every month (10am – 1pm) in the town centre.
A short drive (32 kms) north of town is Waipapa Bay which is home to the Kaikoura Crayfish and Camp. Don't be discouraged by its quaint appearance, especially if you're looking for freshly cooked seafood without the fuss, because you can't really go wrong.