Driving into Weheka late in the afternoon, we were excited to get out, stretch our legs and discover all of the adventurous things to do in Fox Glacier. It wasn't an overly long or difficult drive from Greymouth (on the West Coast of the South Island) and we had stopped for lunch at Franz Josef, however my desire for adrenaline fuelled my restlessness.
Unlike Franz Josef, the town of Weheka / Fox Glacier is smaller (only 300+ local residents…) with slightly less services which I had initially thought to be an inconvenience, however I later came to realise that this was actually part of its charm and attraction.
What the town lacks in the way of amenities, the surrounding scenery makes up for in grandeur, offering spectacular views of the Southern Alps.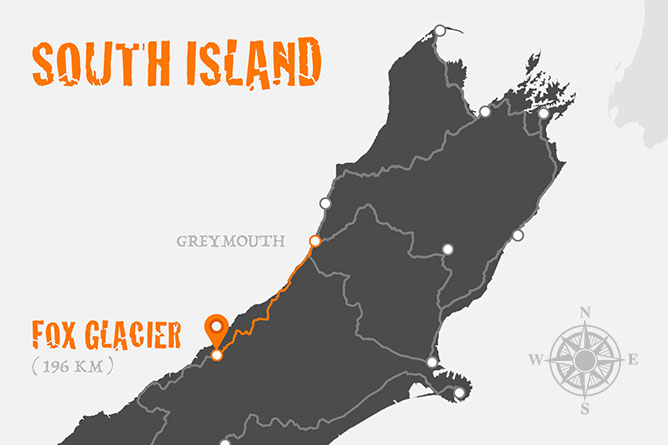 Driving Time & Distance:
2 hours 36 mins or 196 km (Greymouth – Fox Glacier)
4 hours 6 mins or 326.9 km (Queenstown – Fox Glacier)
After promptly checking into our accommodation at the Sunset Motel (93 Cook Flat Rd), we decided to take advantage of the fading evening light and were relatively optimistic that we'd have the opportunity to capture an image or two…
In the distance the mountain range was illuminated by shades of warmth and my initial instinct was to drive east towards Fox Glacier, however my father indicated he would like to travel in the opposite direction to Lake Matheson which is best known for its spectacular mirror reflections.
Due to my persistent stubbornness, I eventually convinced my father to drive in the direction of Fox Glacier which in hindsight may not have been the best decision at the time, nevertheless we were about to find out…
Fox Glacier Valley Walk
Back on Haast Highway heading south, we turned left onto the access road to Fox Glacier which you can't miss… Within minutes of parking, I had jumped out of the car and commenced my trek to the source of Fox River.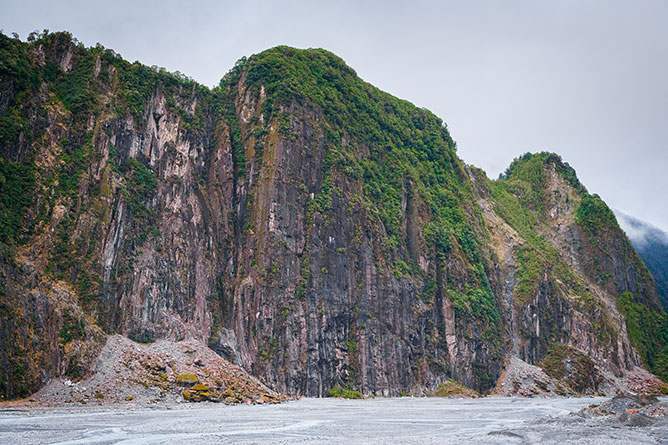 (Cliff Face, Fox Glacier Valley)
The walk to Fox Glacier is 2.6 kilometres return journey and can be completed within one hour reasonably easily, but with that said you should be aware of the hidden safety risks. The valley is prone to landslides and signage along the track points out high risk zones where standing still is not recommended. Landslides aren't the only potential hazard, falling ice and flooding are common events that can close the track to visitors.
The track surface can be challenging at times trying to safely navigate the large rocks underfoot and therefore it's worth considering wearing good quality hiking boots for support to prevent any sprained ankles or broken bones.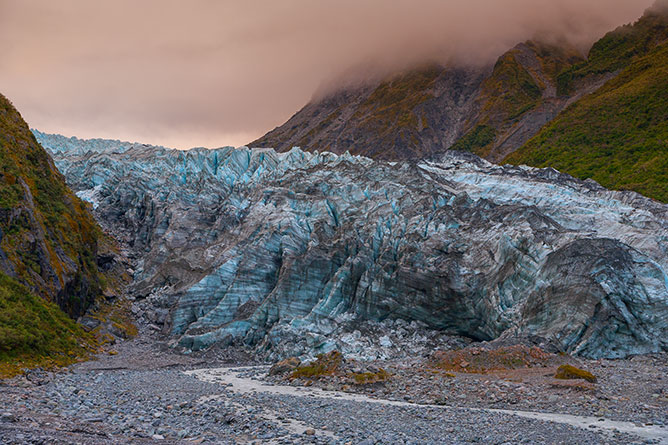 It's not surprising to see backpackers on the side of the road during the day in New Zealand, however at night it's a little unusual. Driving down the access road in the dark, we came across a young European lady who was travelling by herself. It was clear she had underestimated the time it would take to visit Fox Glacier and we felt obligated to ensure that she made it back to her hostel in Weheka safely.
After dropping off our grateful passenger, we were hungry and decided to eat out, however there wasn't a lot of choice in terms of restaurants that were actually open… In fact there was only one, The Plateau Cafe and Bar. We were delighted to be served hot wholesome food and what I remember most wasn't dinner, but instead the delicious home-made hot apple pie I'd ordered for dessert.
Helicopter Flight
It's 5:00AM… I'm awake, fearful of oversleeping and missing my first helicopter flight.
Even though the curtains are drawn, lying in my bed I could see the sky beginning to change color through a narrow, horizontal glass window close to the ceiling. Quietly confident of reasonable weather, I crawled out of bed and opened the curtains to crystal clear blue skies (with next to no wind…) perfect conditions.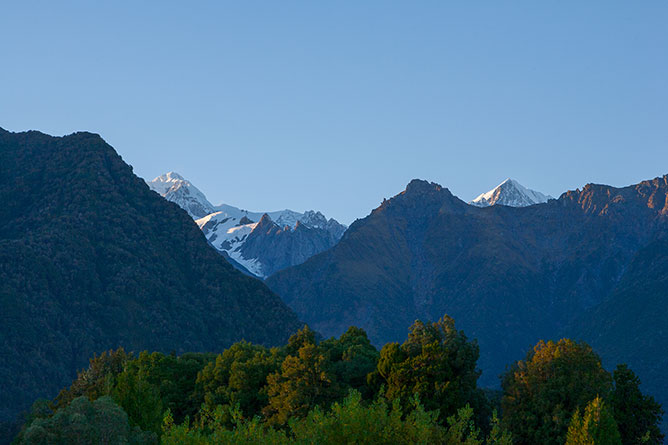 (Early Morning View From Sunset Motel)
After getting dressed, I couldn't help myself and promptly went next door to check to see if my parents were prepared. If we were to make our flight, we needed to be ready and waiting at the Fox Glacier Guiding Centre (44 Main Road) by 7:30am which was only 2 minutes drive from our motel on Cook Flat Road.
It didn't occur to me at the time, but we weren't actually flying with Fox Glacier Guiding and instead had originally ordered with Scenic Flights Heli Services. Within 15 minutes, we were on the shuttle bus heading to the heliport which turned out to be no more than a large shed located in an open paddock.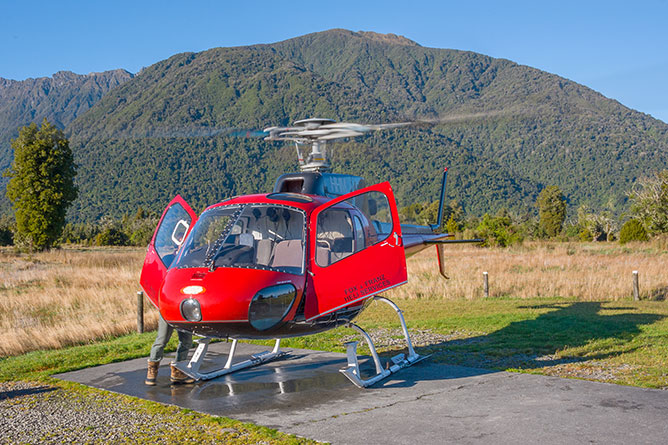 (Helicopter Landing Pad)
Prior to boarding the helicopter, we were given important safety instructions from the pilot, however my thoughts were solely focused on sitting in the front seat next to the aircraft's controls that presented the best perspective for photography. Fortunately, we were first to climb aboard the helicopter and I was seated adjacent to the pilot.
I wasn't quite sure what to expect as I had never flown in a helicopter before and unlike airplanes taking off was pleasantly cautious, but meticulously executed. Excited, I tried to recover my composure as we began to gain altitude and speed flying over vivid green fields and towards the Southern Alps.
At the time of booking we were presented with a list of flight routes ranging from 20, 30 or 40 minutes in length. We didn't want to miss out on this once in a lifetime opportunity and therefore selected the most extravagant route called the "Grand Tour" which cost $335 NZ dollars per person.

(The Grand Tour – All Colored Flight Routes Included)
The first attraction on our flight was Franz Josef Glacier (Kā Roimata o Hine Hukatere) which descends 12 kilometres or 7.5 miles from the heights of the Southern Alps, eventually emerging into the Waiho River. Discovered by Europeans in 1859, the glacier remained anonymous until 1865 when German explorer, Julius von Haast named it in honor of the Emperor of Austria, Franz Joseph.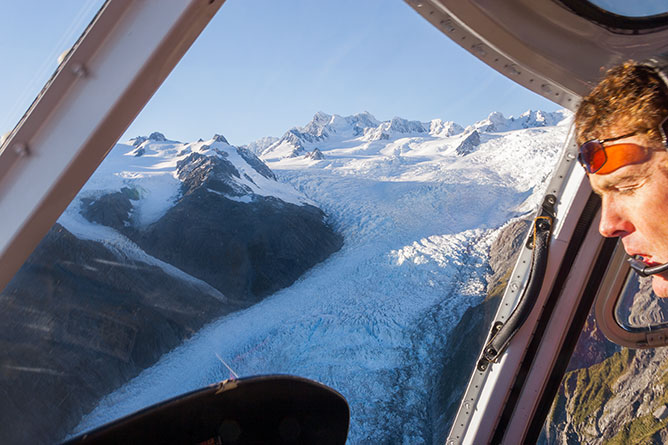 (Views Of Franz Josef Glacier)
After ascending to the top of the Franz Josef Glacier, the pilot levels out the aircraft and begins flying south trailing the contours of the mountain range where we catch our first glimpse of an alpine pioneer hut perched precariously on the edge of a rocky cliff.
Similar pioneer huts can be found throughout the Southern Alps offering skilled alpinists and mountaineers shelter all year round for only $35 NZD per night. Definitely not for the faint hearted or inexperienced tourist like myself.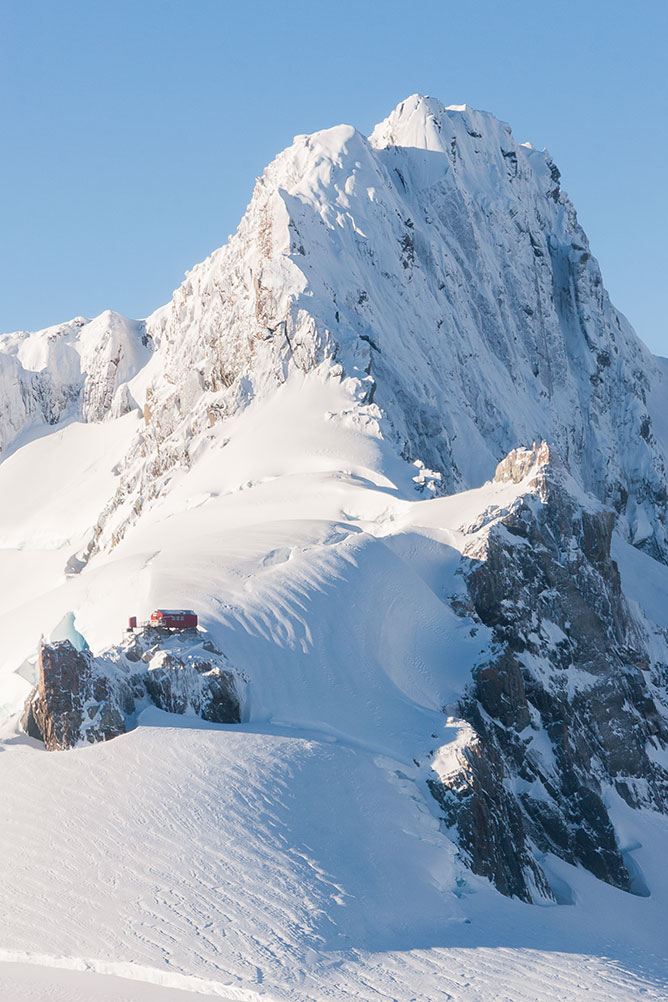 (Alpine Pioneer Hut, Fox Glacier)
Presented with near perfect conditions we were blessed to have had the opportunity to traverse the main divide which separates the east from the west coast. On the other side of the mountain range we experienced surreal views of Mt Tasman Glacier and Mt Cook the highest mountain in all of New Zealand.
Rising 3,724 metres (12,218 feet) into the sky, Mount Cook (Aoraki) is most famously know as the training ground of Sir Edmund Hillary who became one of the first climbers to have reached the summit of Mount Everest on the 29 May 1953.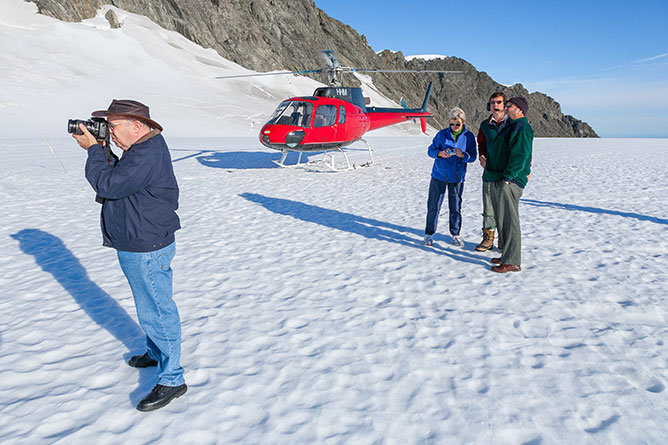 (Landing On Top Of Fox Glacier)
As we rounded Mt Cook, the pilot carefully maneuvered the helicopter north before gradually descending and landing on the pinnacle of Fox Glacier which is overshadowed by the grandeur of Mt Tasman.
Cautiously, one by one we exited the helicopter onto the solid but slippery ice which had the potential to disappear from underneath our feet, if we were to disturb any hidden cavities. Not overly confident to wonder more than 5 – 10 metres from the aircraft, I eventually stopped worrying about my footing and started focusing on the magnificent mountain in front of me.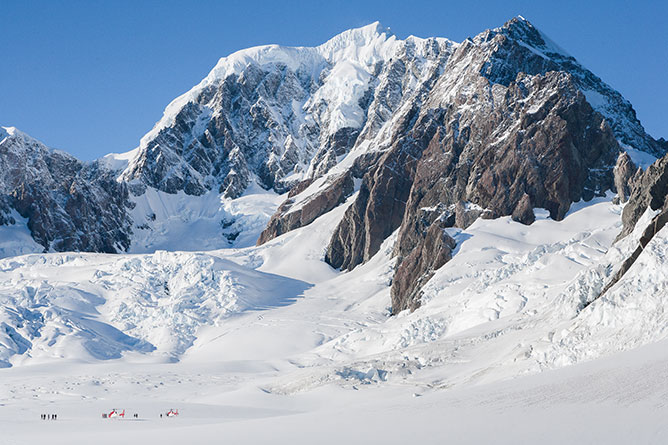 Mount Tasman is New Zealand's second highest mountain reaching an elevation of 3,497 metres (11,473 feet) and is only four kilometres north of it's larger neighbour, Mount Cook.
With only minutes to spare before we were to take off, I tried to capture as many photos as possible in an effort to preserve this unique, once in a lifetime experience with my parents.
Given the signal to get back into the helicopter, we all put on our seat belts as the pilot closed the doors. After ignition of the engine, the rotary blades achieved ample momentum to lift the aircraft off the ice before rotating 180 degrees to fly westward over Fox Glacier.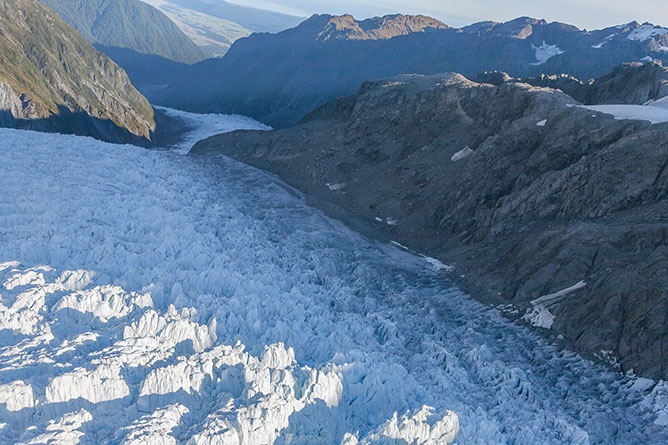 (Flying Over Fox Glacier)
Winding our way down 13 kilometres (8.1 miles) of vivid blue ice took my breath away and somewhat reminded me of travelling down a waterslide in my youth. In 1872, Fox Glacier was named after the Prime Minister of New Zealand, Sir William Fox. In 1998, the Ngai Tahu Claims Settlement Act was introduced which recognised the traditional owners of the land and its name was officially altered to Fox Glacier / Te Moeka o Tuawe.
As the pilot begins levelling out the controls of the helicopter, Fox Glacier transforms from solid ice into the pristine cold waters of Fox River that subsequently feed into Cook River and eventually out into the Tasman Sea.
With both temperate maritime glaciers receding due to climate change, I feel blessed to have experienced them in all their splendour and I would recommend anyone travelling to Westland Tai Poutini National Park to consider booking flights ahead of time because you won't regret it.
Lake Matheson Walk
After landing at the heliport, we were escorted onto the shuttle bus and driven back to the township of Weheka. With perfect weather on our side, we decided to stretch our land legs and extend our morning expedition with a casual walk around the banks of Lake Matheson which is well known for it's mirror reflections of Mount Cook (Aoraki) and Mount Tasman.
Lake Matheson was formed when Fox Glacier retreated from its last significant advancement 14,000 years ago. During its progression across the coastal plains towards the sea, Fox Glacier moved tremendous amounts of debris, eroding the earth and creating depressions that overtime accumulate water.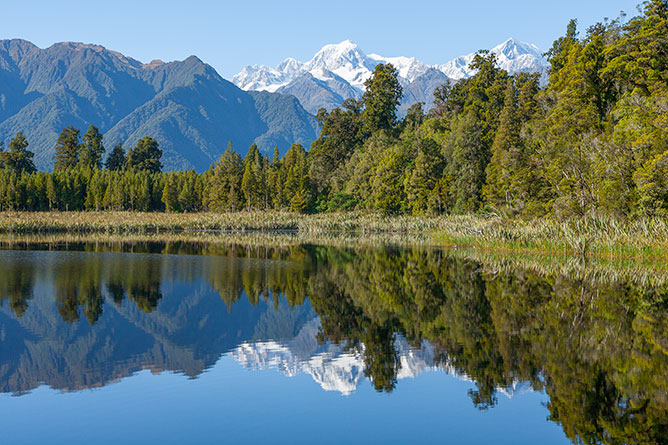 (Reflections Of Mt Tasman, Lake Matheson)
Nestled in ancient forest, the walking track is easily accessible from the carpark located off Cook Flat Road. Circling the outside perimeter of the lake the maintained dirt tracks and timber boardwalks can be navigated without difficulty and offer the perfect vantage point from which to experience the natural surroundings.
Depending on how you feel at the time you may choose to walk the 1 km (return journey) to the Jetty Viewpoint or if you're feeling a little more energetic try walking the Lake Circuit which is 2.6 km (return journey). At an average pace you can complete these tracks within 40 minutes to an hour and half depending on which route you decide to hike.
If you're looking for photo opportunities the best time to visit Lake Matheson is around dawn or dusk and I would recommend walking the track clockwise which will provide you with more opportunities to photograph the reflections of the Southern Alps.