With an abundance of natural attractions, adventurous activities & marine wildlife New Zealand's South Island is perfectly suited for any type of driving holiday.
Due to it's size, exploring and experiencing all that New Zealand's South Island has to offer can be tiring which is why I decided to divided my 4 week itinerary into two stages.
Separating my holiday itinerary will reduce the amount of long distance driving I'll have to do over 2 weeks instead of 4 weeks. As a result, I'll be able to slow down and appreciate the treasures of each town, city or region without haste.
~ My Driving Itinerary ~
In this article (part 1), I'm going to highlight the good, the bad and the ugly as I travel around the South Island's southern roads. Then, I'll have a short break before continuing on my journey (part 2) driving around the northern roads of the South Island of New Zealand.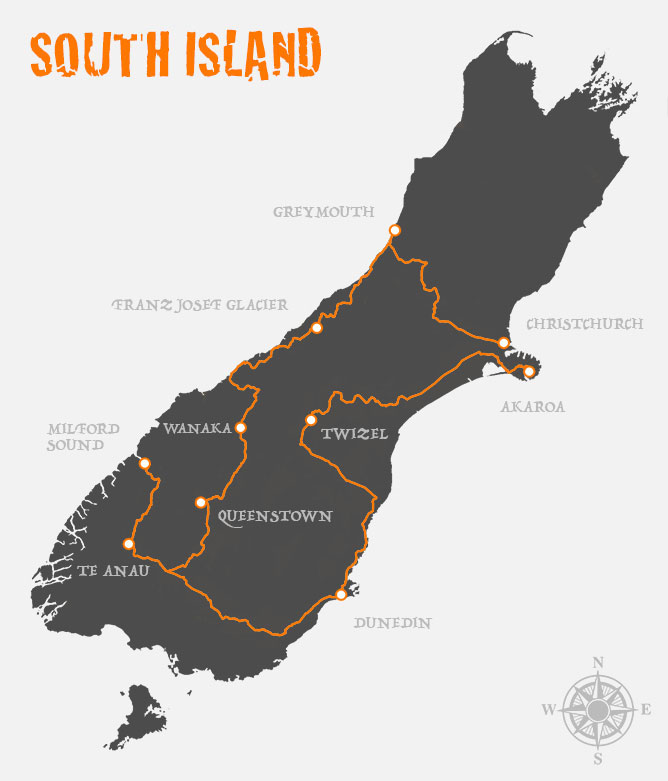 Each route will take approximately 2 weeks to complete and whilst there is a considerable amount of driving time you'll soon discover that the quality of New Zealand's roads make for an enjoyable road trip.
What Is The Best Time Of Year To Visit?
Unfortunately, there isn't a definitive answer to this question and depending on what attractions you would like to see or what activities you would like to do on the South Island of New Zealand will influence the most appropriate time of year to travel.
For my first 14 day road trip, I went in New Zealand's Autumn months (between March and May), so every photograph you'll find within this article should give you an indication of what you could expect if you were to plan your driving holiday within these months.
I found travelling in Autumn extremely comfortable and not too cold. I've always been fascinated with the colours of Autumn (as the leaves begin to fall…) contrast by clear blue skies.
Table Of Contents:
The travel itinerary listed above served me fittingly, however it's not perfect and I recommend customising accordingly to suit your own individual requirements.
DAY 1 ) Christchurch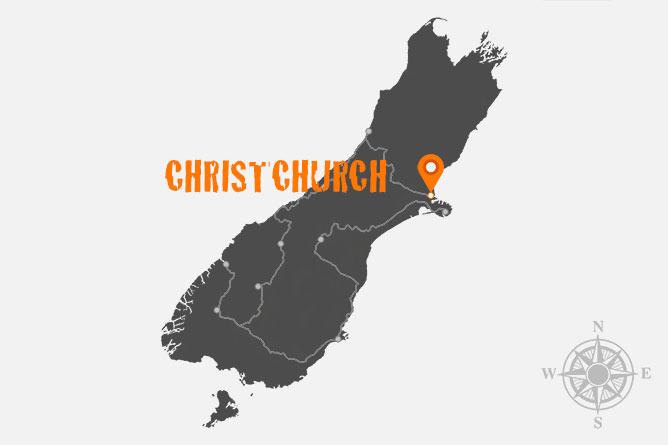 I begin my New Zealand road trip in Christchurch which is the country's third most populated city (behind Auckland and Wellington) and the largest city on the South Island.
Unfortunately, Christchurch's city centre was destroyed by an earthquake (6.3 on the richter scale) in 2011. Whilst the city may appear to be devastated and damaged it is being slowly rebuilt by dedicated, hard working individuals from all over the world.
At the heart of city centre is the Christchurch Cathedral, an icon that was severely affected by the earthquake which destroyed its impressive gothic spire. With the church in ruins, the community was left with nowhere to gather, grieve and be consoled. But, New Zealanders are extremely creative and promptly began building transitional Cardboard Cathedral that was an unexpected highlight of my time in Christchurch.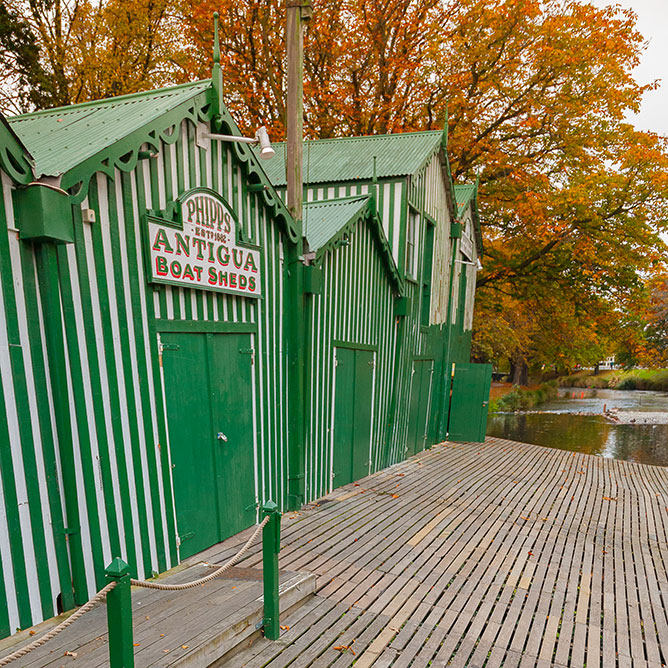 (Antigua Boat Sheds, Christchurch)
What To Do In Christchurch
Even though the city centre isn't whole, I've found more than enough activities to keep occupied and entertained during my stay. In particular, punting down the beautiful Avon River thanks to the iconic Antigua Boat Sheds which were erected by two passionate boat builders (Messrs Albert Shaw and J.T. Tidd) in 1882.
As you're expertly guided ever so gently along the Avon River, it's hard not to relax in the tranquility of the garden city. The return trip from either departure points takes approximately 30 minutes, however 45 min private tours are also available.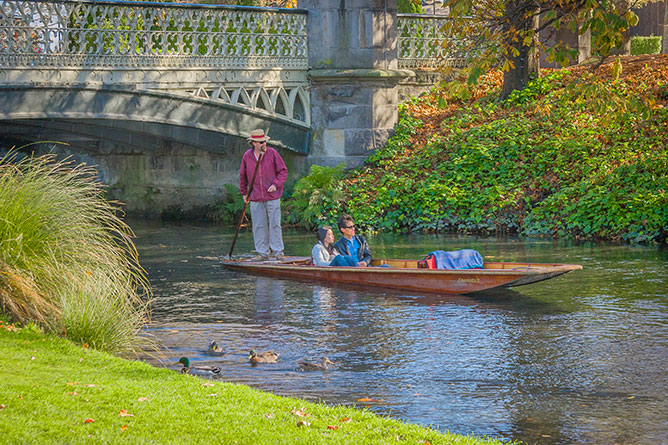 (Punting On The Avon River, Christchurch)
Next to the Christchurch airport is the International Antarctic Centre where you can brave the world's first indoor Antarctic Storm. An exhilarating attraction that simulates -18 degrees celsius, blizzard conditions characteristic of what you would experience in an Antarctic summer on the coast.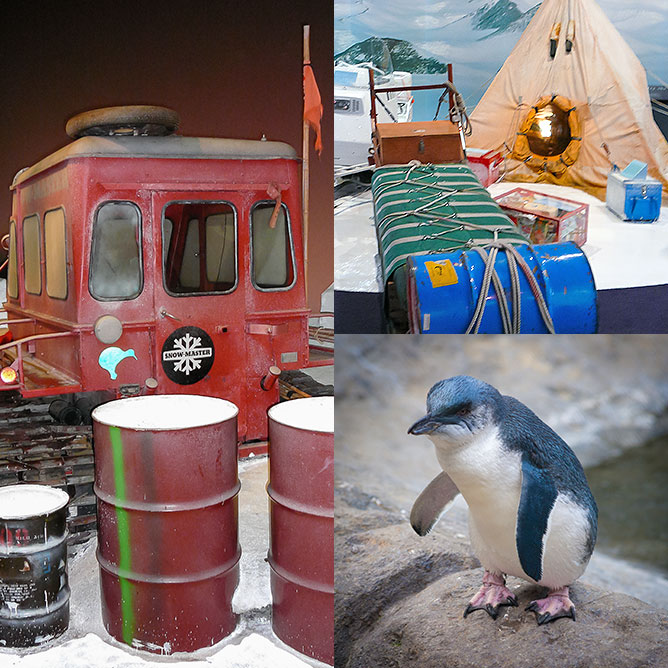 (Exploring The International Antarctic Centre)
My favourite experience from visiting the International Antarctic Centre was encountering Little Blue Penguins, who had been rescued from the wild. Due to physical disabilities these penguins have been left defenceless and would not survive on their own in the wild.
I recommend you visit shortly after your arrival or whilst waiting for your flights to depart Christchurch Airport which will reduce the amount of time required to travel back and forth from the city.
DAY 2 ) Greymouth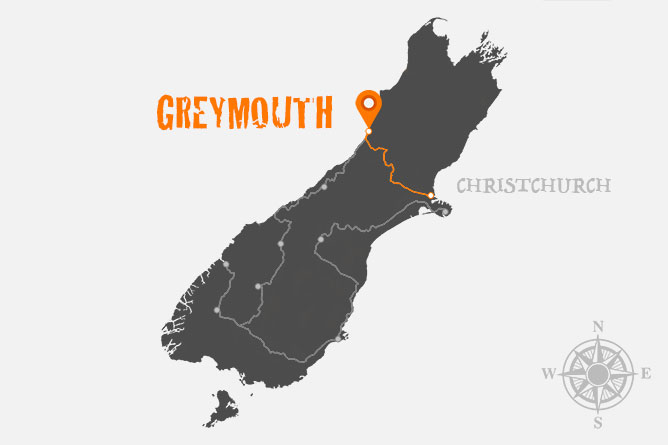 My next destination is Greymouth the largest town located on the West Coast of the South Island. Maori had lived in Greymouth for considerable time before European settlement and the region is well known for it's natural resources.
In order to get to Greymouth from Christchurch, I'll need to head inland across Canterbury Plains, following the Waimakariri River and traverse the Southern Alps.
How To Get To Greymouth From Christchurch
I've chosen for this leg of my journey not to drive but instead to experience one of the world's most spectacular train trips, the TranzAlpine. But, if train journeys aren't quite your thing don't be put off driving to Greymouth.
Driving Time & Distance:
3 hours 7 mins or 243 km (Christchurch – Greymouth)
Travel Time By Train:
4 hours 42 mins (Christchurch – Greymouth)
(Tranzalpine Train Journey: Christchurch – Greymouth)
Arriving at Greymouth train station felt very quaint and although it's the largest town in the West Coast region it certainly didn't feel that way at least initially.
My first impression of Greymouth as I strolled around town was that of traditional, working class people which could be explained by it's early European history steeping in the mining of gold and coal.
What To Do In & Around Greymouth
It's without doubt a necessary stop for travellers who wish to explore the West Coast, perfect for composing thoughts and preparing for the next stage of your holiday. However, don't expect to be entertained within the center of town as the majority of local attractions and activities are found on the outskirts and surrounding district.
Green stone (Pounamu) hunting, knife making, quad biking, cave rafting and trail hiking are just a handful of the wonderful activities that you could enjoy as part of stay in Greymouth.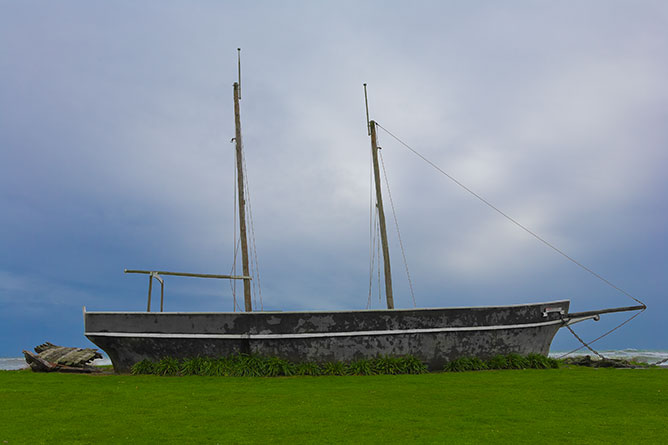 (TAMBO Shipwreck Memorial, Hokitika)
A short drive south of Greymouth (33 mins or 39 kms) is the township of Hokitika, famous for it's early shipping history and in particular the TAMBO shipwreck which went ashore when crossing the Hokitika bar on the 12th of November 1866.
Although my stay in Greymouth was limited to one night on this particular road trip, I expect to pass through this coastal town again, as I explore more of New Zealand's West Coast.
DAY 3 – 4 ) Glacier Country – Franz Josef & Fox Glacier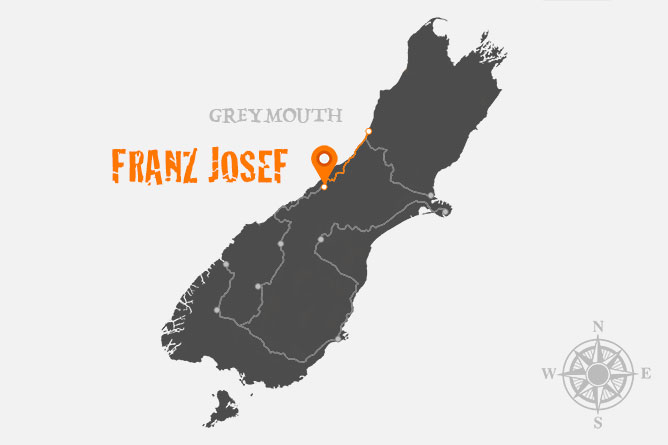 Arriving in Franz Josef for lunch, I immediately felt a change come over me. The atmosphere here was alive with adventure and the chatter of backpackers from all over the world. The township has a good range of service providers that you may not expect to find in a small village, so you shouldn't go without the essentials required for travelling comfortably.
After lunch it was time to head off to Fox Glacier where I'd be staying the night. Unlike Franz Josef, Fox Glacier village is smaller with slightly less services which I found to be more relaxing and peaceful during my stay.
Driving Time & Distance:
2 hours 11 mins or 173 km (Greymouth – Franz Josef Glacier)
2 hours 36 mins or 196 km (Greymouth – Fox Glacier)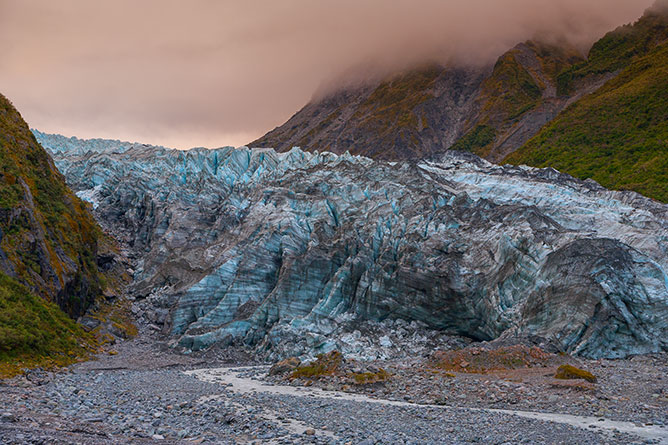 (Fox Glacier Te Moeka o Tuawe Valley Walk)
Things To See & Do In Fox Glacier
I spent my afternoon hiking the Fox Glacier Te Moeka o Tuawe Valley walking track to catch a glimpse of Fox Glacier. The walk from the car park was relatively short, but very rocky underfoot.
In the morning I was up early because I had booked a scenic helicopter flight over the glaciers which included a snow-landing. If you can only afford or have time to do one activity whilst in Glacier Country, I highly recommend you experience Franz Josef and Fox Glacier from the sky, it was simply spectacular.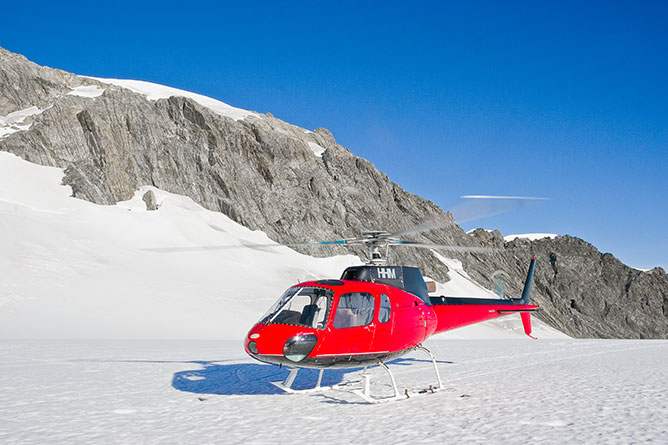 (Snow-Landing On The Top Of Fox Glacier)
After coming back down to earth, I drove down Cook Flat road to Lake Matheson which is famous for its reflected views of Aoraki/Mount Cook and Mount Tasman.
To get the best views of the surrounding mountains, I took a short walk along the Lake Matheson walking track through lush rainforest and accompanied by the sounds of native birds. Allow 40 mins (return) to jetty viewpoint or 1 hour 40 mins for the whole track which loops around the fringe of Lake Matheson. After filling my digital camera's memory card with photos, I had lunch at Matheson Café and Gallery.
DAY 5 – 6 ) Wanaka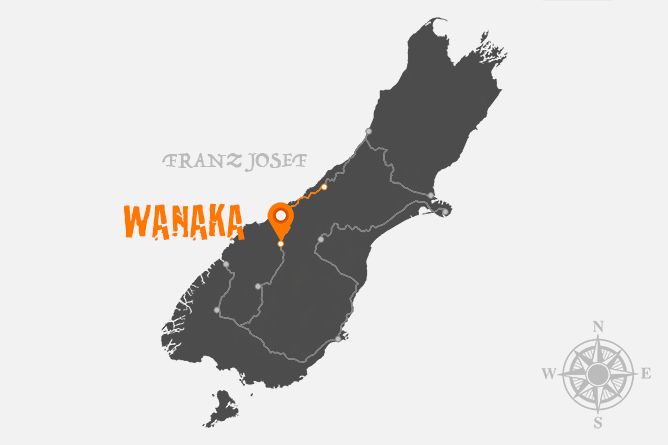 Wanaka is the next destination on my road map and is approximately 3 hours drive south of Fox Glacier. After 90 minutes driving, State Highway 6 begins to mirror the meandering curves of Haast River before entering Mount Aspiring National Park. New Zealand's third largest national park, it's wonderful mixture of remote wilderness, high mountains and beautiful river valleys make for an enjoyable driving experience.
Driving Time & Distance:
3 hours 30 mins or 288.4 km (Franz Josef Glacier – Wanaka)
3 hours 5 mins or 262 km (Fox Glacier – Wanaka)
Best known for its skiing in the winter months, the resort town of Wanaka is situated at the southern end of Lake Wanaka. In the summer months Lake Wanaka turns into a playground for watersport activities such as swimming, fly fishing, kayaking, sailing and jet boating.
Strolling along the banks of Lake Wanaka, it's not hard to see why folks feel so passionate about living in this region of the South Island.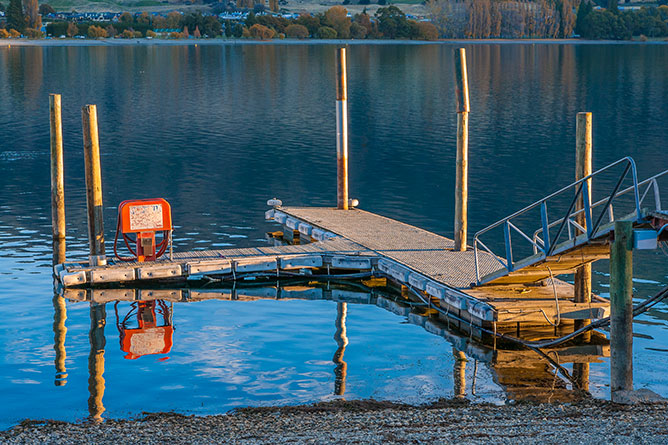 (Lake Wanaka Boat Mooring)
What To Do Whilst On Holiday In Wanaka
Wanaka has a wealth of attractions and activities to keep even the most active person entertained. My travel schedule only afforded one day and two nights in Wanaka. Therefore, I decided to spend the morning exploring the town's centre and the afternoon visiting local establishments such as the Lavender Farm, Beerworks, Warbirds and Wheels which reside on the outskirts of town.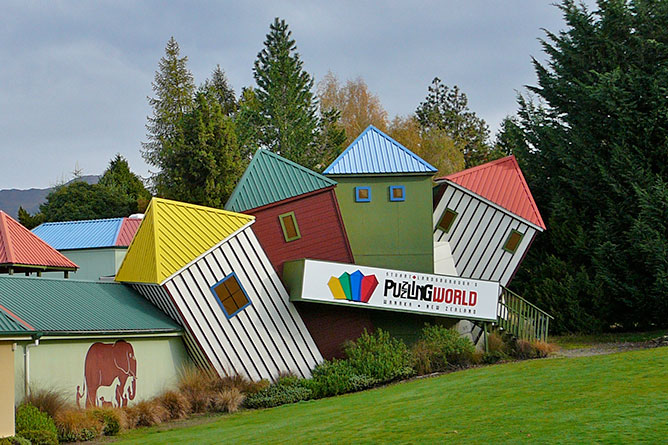 (Puzzling World – Wanaka's Wonderful World of Weirdness)
On my way back to my accommodation, I had time to visit Puzzling World which is just off Wanaka-Luggate Highway. If you're interested in brain teasers this is an activity you won't want to miss. I personally appreciated the opportunity to challenge my imagination and test my intellectual prowess. Established in 1973, Puzzling World has grown from a single maze into an amazing centre designed to make your brain question everything.
DAY 7 – 8 ) Queenstown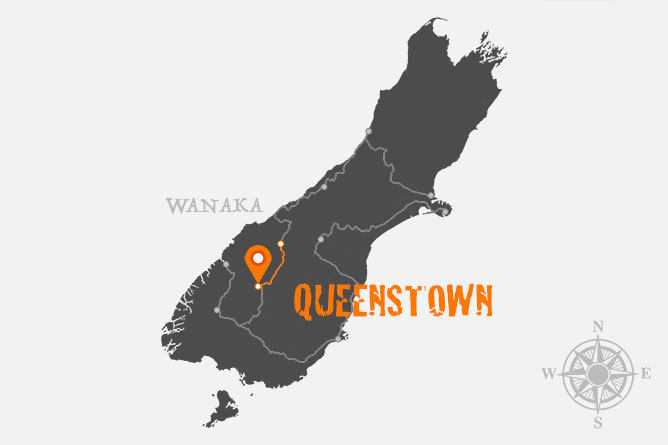 From Wanaka, it's an hours drive south before I arrive in Queenstown the "Adventure Capital of the World". On my route, I stumbled across one of the region's gold mines called Goldfields Mining Centre where I stopped briefly for a break. It's estimated that less than a third of the gold resources have been excavated and whilst commercial mining has ceased, gold fossicking is still available to visitors who wish to try their luck.
Driving Time & Distance:
1 hour 12 mins or 70.5 km (Wanaka – Queenstown)
The heart of Queenstown rests on the banks of Lake Wakatipu and is renowned for its bars, cafes and restaurants set against the Southern Alps.
Fortunately, my accommodation was centrally located on Stanley Street (Scenic Suites) and within walking distance of most of the major attractions including the town's centre.
Attractions & Activities In Queenstown
From the middle of June to the end of August, Queenstown and the surrounding Central Otago region transforms into a winter wonderland perfect for snow sports like skiing, snowboarding and heli-skiing.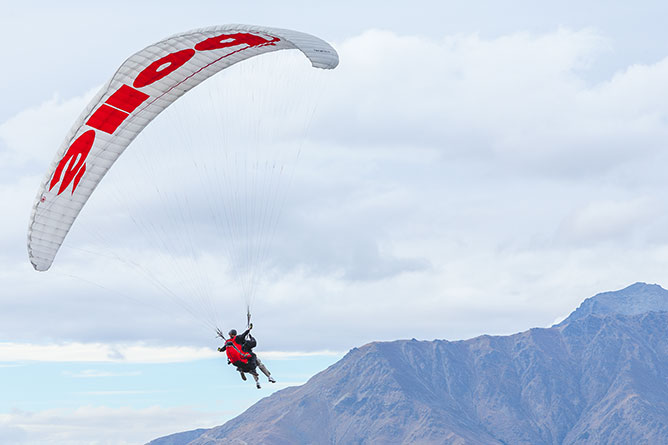 In the summer months of December through to March focus shifts to hiking, biking, fly fishing, jet boating, river rafting and the world's first permanent bungy jump.
A short drive (20 mins) north-east of Queenstown is Arrowtown which is renowned for its old english style cottages that adorn the main street. Its rich heritage and historic buildings continue to offer a unique experience for tourists complete with world-class food, beverages and shopping.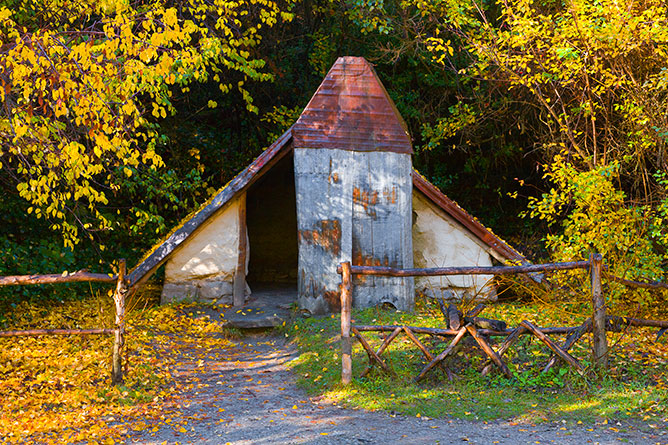 (Chinese Mining Settlement, Arrowtown)
Two minutes walk from the main street of Arrowtown is a historical Chinese Mining Settlement. A handful of well-preserved huts still remain intact, providing a unique insight into how foreign gold miners worked and lived along the Arrow River in 1869.
DAY 9 – 10 ) Te Anau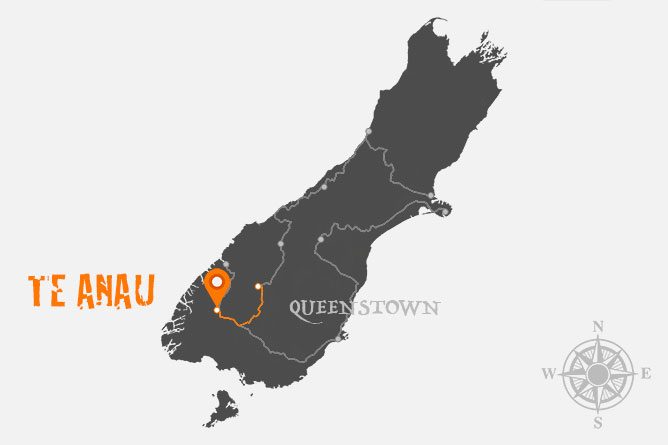 The next destination on my road trip is Te Anau, a small town on the eastern shore of Lake Te Anau which is the largest lake on the South Island. With a population of only a couple of thousand residents, the town of Te Anau relies predominantly on tourism and farming as a source of economic preservation.
Driving Time & Distance:
2 hours 11 mins or 174 km (Queenstown – Te Anau)
Why I choose to stay in Te Anau instead of Milford Sound?
Good question, whilst I would have loved to have stayed in Milford Sound it would of made the next leg of my road trip harder, increasing the amount of driving time by almost double.
However, I could have avoided this difficulty by including an addition stop over in Invercargill for example, but it wasn't to be. Te Anau was more than satisfactory and made perfect sense at the time.
What To Do In & Around Te Anau
To be honest my first impression of Te Anau was underwhelming and left a lot to be desired especially after experiencing Queenstown. With that said, Te Anau remains firmly engrained in my memory because of its close relationship with Fiordland National Park.
One of the South Island's hidden gems within Fiordland National Park is the Te Anau Glowworm Caves. I had booked an evening tour of the glowworm caves on what was a cold, rainy night. Accessible only by boat, the tour begins with a short cruise to the western bank of Lake Te Anau from Real Journeys Visitor Centre (Lakefront Drive).
Upon disembarking, we are greeted by our guides and shown an informative presentation about the history of the 12,000 year old caves. After the introduction concludes, our tour group proceed to the entrance of the caves and our voices are quickly drowned out by the sound of rushing water. Dramatic lighting reveals a mysterious underground world of beauty. Deep inside the caves, we climb aboard small boats which guide us through the darkness into a hidden cavern occupied by thousands of shimmering glowworms.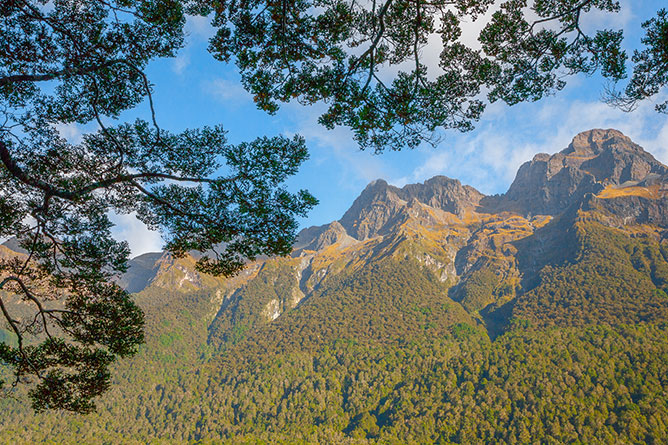 (Mirror Lakes On The Road From Te Anau To Milford Sound)
The next day, I had booked a cruise on Milford Sound which was two hours (1hr 50mins) drive north of Te Anau. Milford Sound is a 15 kilometer fiord that represents a small section of the world heritage listed Te Wahipounamu park.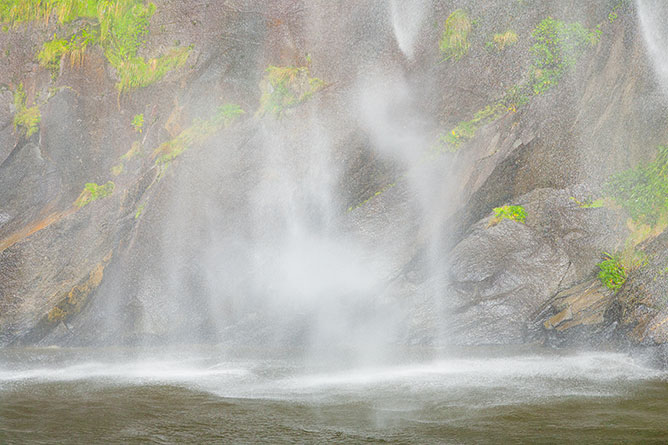 (Milford Sound Waterfalls After Rain)
Blessed with sunshine, blue skies and rain from the previous night promised perfect conditions for sailing on the water. After rain, the sheer cliff faces of Milford Sound transform into temporary waterfalls that adorn the length of the fiord. If you're patient, it's not uncommon to catch a glimpse of the region's marine wildlife that includes fur seals, penguins, dolphins and whales.
After cruising Milford Sound, I returned to Te Anau and spent the night preparing for the next stage of my journey.
Resources:
DAY 11 – 12 ) Dunedin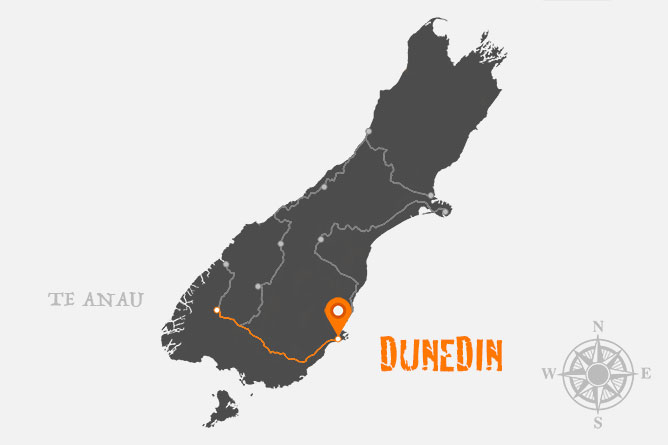 The drive from Te Anau whilst long (3hrs 28mins) was relatively uneventful and in some respects uninteresting due to the lack of attractions along the way. If I could have chosen another route, I would have driven south along the coastal highways through Invercargill, The Catlins and then onto Dunedin. With that said the drive wasn't difficult, the roads were good and there were several small towns which made for perfect rest stops.
Driving Time & Distance:
3 hours 28 mins or 291 km (Te Anau – Dunedin)
Dunedin is a thriving metropolis nestled at the head of Otago Harbour. It's known for its Scottish and Maori heritage, Victorian and Edwardian Architecture and Universities. In fact, students account for almost a quarter of Dunedin's population.
The adjoining Otago Peninsula is home to colonies of albatrosses, sea lions and rare yellow-eyed penguins which play an important role in Dunedin's eco-tourism industry.
Things To See & Do In Dunedin
As you begin to explore the city of Dunedin you'll come across stunning victorian architecture in particular the Railway Station, St Paul's Cathedral, Law Courts and University of Otago Registry. An increasing number of the city's blank walls are being transformed into works of art by local and international artists. Surprisingly, the city is embracing this new trend and encourage walking the Street Art Trail.
If you're looking to find the very best of what Dunedin has to offer in the way of food, I recommend visiting the Otago Farmers Market which is held weekly, all year round.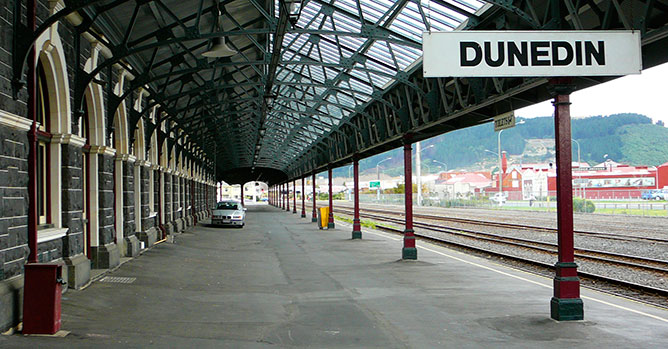 (Dunedin Railway Station)
I didn't get the opportunity to visit the Botanical Gardens, but I wish I had… The elegant conservatory (winter garden glasshouse) which was built in 1908 slightly resembles the architectural design and style of the Palm House (1844-1848) at Royal Botanic Gardens in Kew, United Kingdom.
If you're interested in spectacular views, exquisite gardens and old victorian architecture, I recommend you take a drive to Larnach Castle which was built in 1871.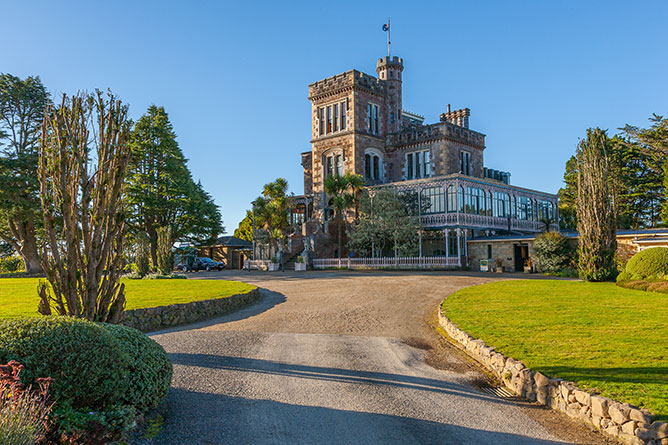 (Larnach Castle Which Overlooks Dunedin & The Surrounding Otago Peninsula)
Larnach Castle is roughly 20 minutes drive from the city centre, positioned on a ridge overlooking the Otago Peninsula. Fair warning, the roads to the estate are challengingly steep. Our rental car stalled due to the extreme incline which overheated the engine. Shortly thereafter, our engine restarted, we continued onto our destination.
DAY 13 ) Twizel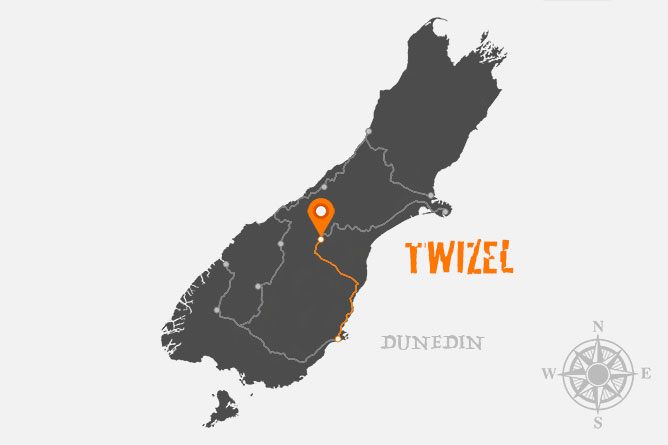 From Dunedin, it's time to hit the road again… I'm travelling to Twizel, the largest town in the Mackenzie District. Driving up the eastern coastline, I stopped briefly at Moeraki Boulders before heading inland through the Waitaki Valley.
Driving Time & Distance:
3 hours 5 mins or 256 km (Dunedin – Twizel)
Surrounded by three prominent lakes (Lake Ohau, Lake Pukaki and Lake Benmore) Twizel is well-known for fly fishing during the late summer months of February and March. In winter, its population dramatically increases for the ski season. When I visited in early May, Twizel had an eerie feeling and the town was almost deserted.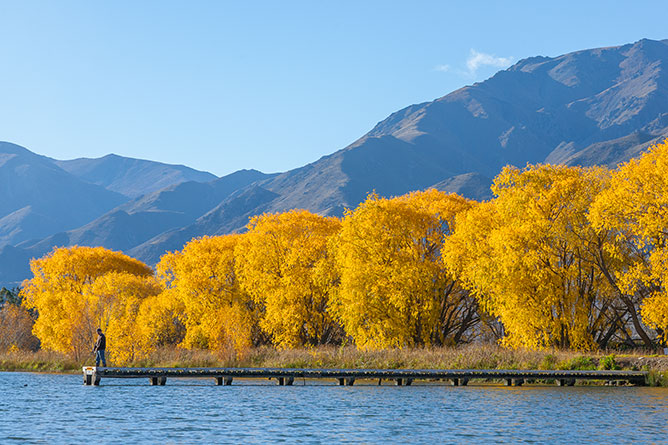 (Fly Fishing On The Lakes In The Mackenzie District)
What Is There To Do In Twizel & Surrounding Areas
The Mackenzie District is known for it's crystal clear, dark skies, producing perfect conditions for astronomers and stargazers. Share an entertaining evening with friends and/or family discovering distant stars, planets and galaxies in the night sky. Stargazing tours are held each night (weather permitting…) from two primary locations Mount Cook Village and Mount John Observatory.
Whilst visiting Mount Cook Village don't forget to wander through the Sir Edmund Hillary Alpine Centre. In 1953, a young New Zealand mountaineer by the name of Edmund Hillary became the first climber to reach the summit of Mount Everest. The Alpine Centre pays tribute to the history of mountain climbing within the Mount Cook region where Edmund Hillary learned and mastered his mountaineering skills.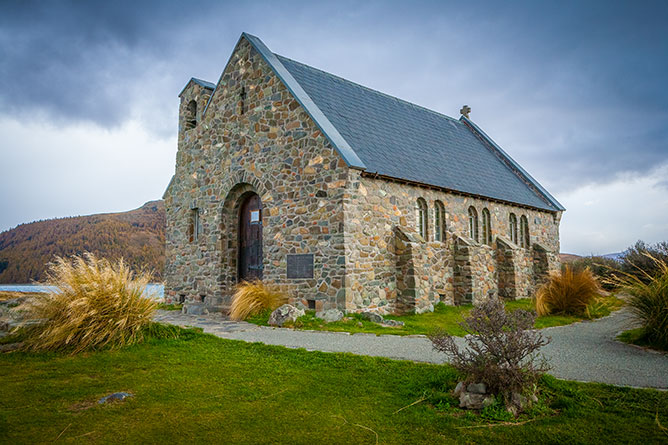 (Lake Tekapo, Church Of The Good Shepherd)
Three-quarters of an hour drive north of Twizel is the southern end of Lake Tekapo and it's local community. On the banks of Lake Tekapo is the "Church of the Good Shepherd" which is commonly portrayed in popular photographs of the region. If you wish to unwind, destress and relax after a long day on the road travelling, I recommend visiting Tekapo Springs.
Resources:
DAY 14 ) Akaroa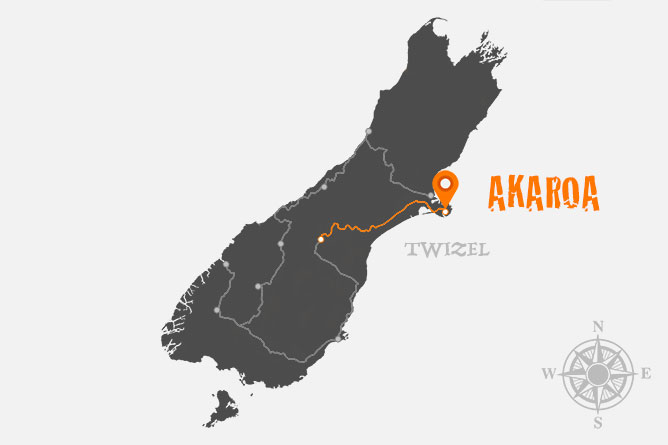 After two weeks travelling around New Zealand's South Island my road trip is reaching its end… The last stop on my holiday itinerary is Akaroa, a small town seventy-five kilometers east of Christchurch on the Banks Peninsula. Volcanic by origin the Banks Peninsula covers an area of approximately 1,150 square kilometres (440 square miles) which includes Akaroa and it's beautiful harbour.
Settled by the British and French in 1840, Akaroa has continued to preserved its colonial architecture and heritage. It's unique european character is charming and perfectly suited to capture the imagination of travellers from around the world.
How To Get To Akaroa From Christchurch
Driving from Twizel to Akaroa took me over 4 hours following the state highways. The journey was pleasant, but it wasn't until I arrived at the foothills of Banks Peninsula that the drive suddenly became more challenging and picturesque.
Driving Time & Distance:
4 hours 15 mins or 339 km (Twizel – Akaroa)
If you're travelling from Christchurch, but don't have the luxury of a rental car, don't despair because there are frequent Shuttle Services which offer one way and return journeys for tourists on a daily basis.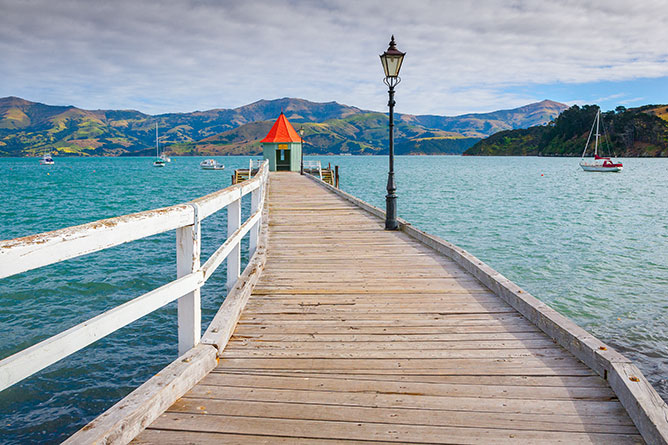 (Strolling The Waterfront Of French Bay)
What To Do In Akaroa
Directly across from my accommodation on Beach Road is Akaroa Harbour in all of its splendour and glory. The majority of the attractions within Akaroa are within walking distance from the Lighthouse, Boat Shed, Museum, Dalys Wharf and many more…
For obvious reasons the most popular activities in Akaroa are marine related including Swimming With Dolphins and discovering the largest little penguin colony on mainland New Zealand. But, if staying active is important try sea kayaking, canoeing or sailing.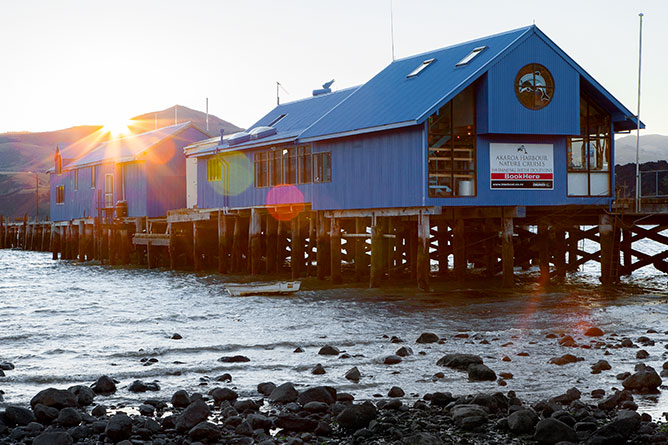 (Akaroa Harbour Nature Cruises On The Pier)
Banks Peninsula has several spectacular walking tracks for the novice through to the experienced hiker. Don't forget to also visit the Okains Bay Maori & Colonial Museum where you'll experience the history of the region.
Resources: