It's now been over 2 weeks since I started my month long holiday travelling around the South Island of New Zealand.
As I mentioned early, I would be dividing my 4 week itinerary into two separate stages, therefore reducing the amount of long distance driving required over 2 week periods which then presents the opportunity for an interval or short respite.
If you haven't already read part one of this series, I recommend you start at the beginning…
Unless of course you're not planning on visiting the southern regions of the South Island which is where I begin my adventures in the land of the long white cloud.
~ My Driving Itinerary ~
After experiencing first hand New Zealand's most well-known South Island destinations, I'm not quite sure what to expect in the coming days, however I'm excited to find out nonetheless.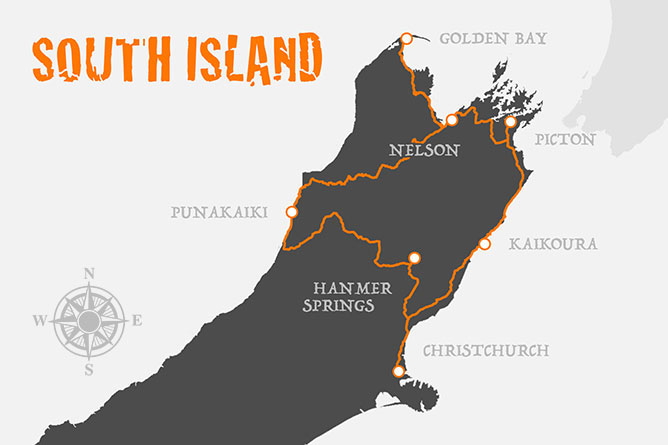 During the next 10 days, I'm going to be travelling through numerous cities, towns and national parks in an effort to experience everything I possibly can without having to drive more than 3 hours per day.
Table Of Contents:
The travel itinerary listed above served me fittingly, however it's not perfect and I recommend customising accordingly to suit your own individual requirements.
DAY 1 ) Christchurch To Kaikoura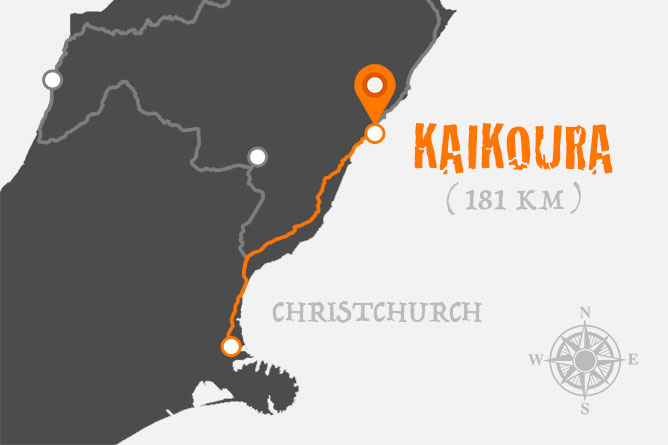 I've had a couple of days rest in Christchurch, I'm feeling quite relaxed, energized and ready to get back on the road. After saying our goodbyes to Christchurch, we got back on State Highway 1 and headed north towards Kaikoura.
Driving Time & Distance:
2 hours 27 mins or 181 km (Christchurch – Kaikoura)
Travel Time By Train:
So, how do you get from Christchurch to Kaikoura if you're backpacking and not driving? The cheapest option would be to travel by bus which will cost you approximately $19-34 NZD per adult (one-way). However, if you can afford to pay a little extra you could travel by train for $129 NZD per adult (also one-way).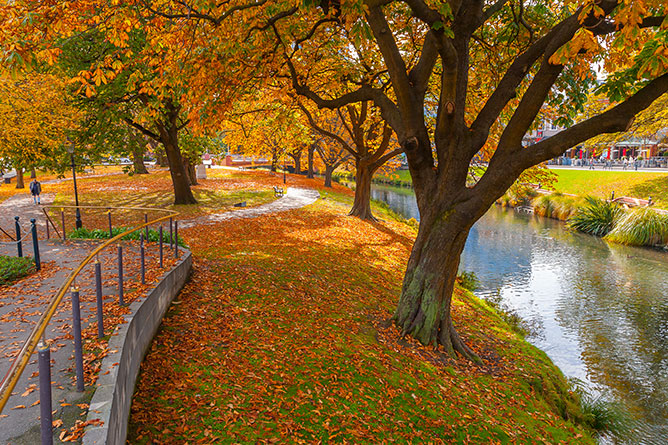 (On The Banks Of The Avon River)
Christchurch
Known as the garden city, Christchurch was devastated by an earthquake in 2011, recording 6.3 on the richter scale. With vibrant memories of how the city once flourished, it's quite shocking, not to mention disorienting to witness the devastation and ongoing reconstruction first hand…
However, the local community continues to remain positive, thinking outside the box and Christchurch is being slowly rebuilt in a manner that draws attention to the resilient character of this charming city and its people.
If you'd like to learn more about the Christchurch earthquakes you should visit Canterbury Museum which has an ongoing interactive exhibition called Quake City that is aimed at educating people on the science behind what causes earthquakes and how we can minimise their impact on society in the future.
Even with the ongoing restoration work that continues each day to day, Christchurch is a hive of activity with numerous things to see and do… From shopping in the Re:START Container Mall, strolling around the Botanical Gardens, reliving history in the Canterbury Museum or reflecting on life in the Cardboard Cathedral.
Unfortunately due to the earthquake Southern Encounter Aquarium and Kiwi House (Cathedral Square) had to permanently close. As a result you can no longer view Kiwis (flightless birds native to New Zealand) in captivity within the city centre.
However, if you wish to catch a glimpse of these rare endangered birds, I recommend visiting either Willowbank Wildlife Reserve or Orana Wildlife Park which are located on the outskirts of Christchurch.
Because Kiwis are nocturnal, it's almost impossible to see them out in the wild and therefore zoo-based breeding programs not only ensure their continued survival, but also offer tourists the opportunity to view these beautiful birds in nocturnal darkrooms.
Christchurch is perfectly positioned (with respect to Canterbury Plains) for hot air ballooning, an extremely popular activity for sightseers who don't mind getting up early.
However, if you decide to go hot air ballooning whilst on holidays, I recommend you have a contingency plan because unfortunately the weather conditions don't always fit in with your travel schedule.
We decided to try our luck whilst staying in Christchurch, but unfortunately the weather upon arrival wasn't safe for flying during those first couple of days.
With the hot air balloon flight cancelled, we organised to try again (weather permitting) once we returned from our road trip, prior to flying home. To find out whether or not we went hot air ballooning, please continue reading…
Kaikoura
Two and half hours after leaving Christchurch we arrive in Kaikoura, a small town which rests on the edge of the eastern coastline, overshadowed by the Southern Alps.
My first impressions of Kaikoura were warm and welcoming, the locals pride themselves on preserving and showcasing the marine ecosystem that supports tourism within the region.
We stayed right across the road from the beach (on the Esplanade) at an establishment called Waterfront Apartments which were friendly, clean and reasonably priced for families.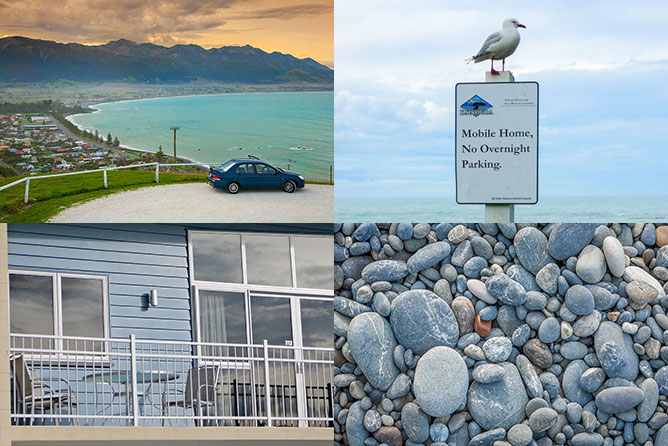 (The Township Of Kaikoura)
If you choose to stay in Kaikoura and aren't interested in cooking, please don't order take away food… Instead go out and take advantage of the fresh seafood that's on offer in restaurants like the Green Dolphin, The Pier Hotel and Cellar View.
Where else in the world can you order crayfish (lobster), prawns, calamari, mussels, oysters and abalone (paua) with the reassurance that they were caught that very morning by dedicated, local fishermen.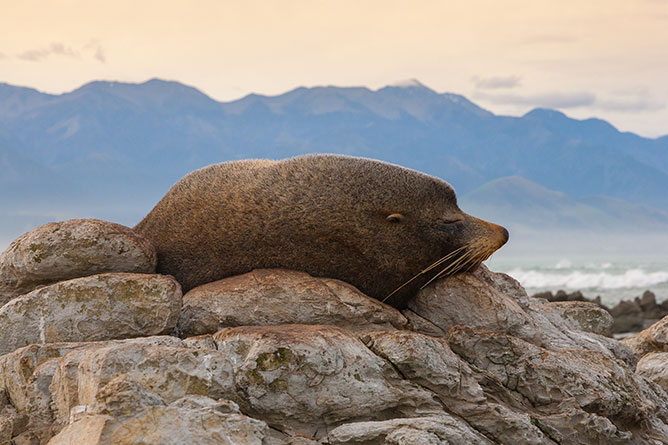 (Fur Seal Sleeping, Point Kean)
Even though I had never previously visited Kaikoura, it was quite apparent that whale watching was one of the town's biggest draw cards. However, I was surprised to learn that Kaikoura has an abundance of unique attractions and activities that weren't necessarily evident to newcomers (like myself…) without additional exploration.
One of my favourite experiences from my time on the Esplanade was when we stumbled across the Point Kean Fur Seal Colony. An unexpected discovery within walking distance of the designated carpark and entrance to the Kaikoura Peninsula Walkway.
Although these majestic creatures look incredibly awkward on land, they're more than capable of moving with considerable speed and causing harm, especially if provoked by uninvited guests. However, I felt incredibly comfortable whilst in their presence which made for a very memorable encounter.
Resources:
DAY 3 ) Kaikoura To Picton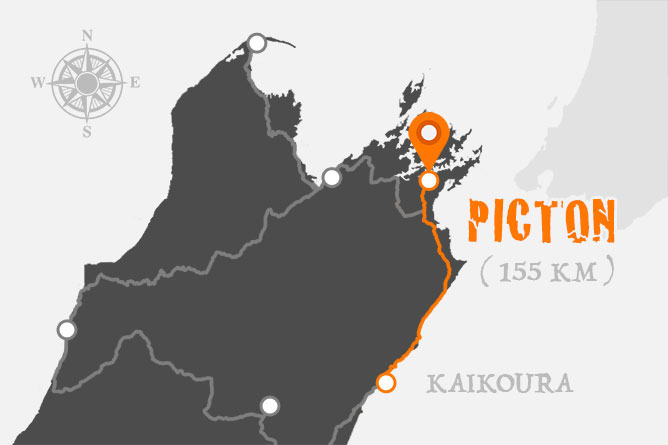 With only a couple of hours of driving ahead of us, we weren't in any hurry to get out of bed, checking out at the very latest our waterfront apartments would permit. At 10am, we were dressed, packed and ready to go…
Driving Time & Distance:
1 hour 58 mins or 155 km (Kaikoura – Picton)
Travel Time By Train:
Back on the highway, it wasn't long before something out the car window caught our attention. A rookery of fur seals were sunbaking on the rocky coastline and without hesitation we immediately pulled over onto the side of the road. After capturing a series of interesting photographs, I noticed on the other side of the road signage for the Ohau Stream Walkway and Waterfall.
We couldn't pass up the opportunity to stretch our legs and explore what was labelled as a relatively easy, 10 minute short walk. With preconceived thoughts on what lay ahead, I wasn't prepared or expecting to see fur seal pups playfully swimming in the waters of the plunge pool. Evidently, the fresh water stream is very popular with rookery during the winter months.
Shortly after crossing into Marlborough, we take a brief detour to drive around the northern side of Lake Grassmere (Kapara Te Hau) which is used for the production of salt. Protected from the open sea, its shallow waters have been divided into series of ponds which overtime naturally evaporate leaving behind crystallised salt.
Blenheim
I can honestly say that I didn't spend any significant amount of time in Blenheim on this leg of my journey. It acted more as a rest stop between destinations which I've come to regret.
In hindsight, I would have spent a couple of extra hours in town because I've since learnt from locals around the Marlborough region that Blenheim has attractions that you won't find anyway else in New Zealand.
It can be easy to become overwhelmed when driving down Main Street with the diversity of suburban shops that will cater for your every need. However, the real gems of Blenheim aren't found on the thoroughfare, but instead just off New Renwick Road.
Take for example the Omaka Aviation Heritage Centre (Aerodrome Road) which hosts outstanding exhibitions, air shows and vintage joy flights. Presently the "Knights Of The Sky" exhibition features an impressive number of world war one aircraft and artifacts from Peter Jackson's (filmmaker) private collection.
Right beside the Aviation Centre is Omaka Classic Cars which houses over one hundred vintage automobiles from the 1950's – 1980's that have been lovingly restored. The story of each car represents an important period in New Zealand's motoring history.
Picton
At the conclusion of our respite in Blenheim, we headed north on State Highway 1 crossing the Wairau River which is one of the longest rivers in New Zealand, starting in the Spenser Mountains and then flowing 170 kilometers east to the Pacific Ocean.
Cruising down the highway it wasn't long before we reached the town of Picton, 23 minutes (28 kilometers) to be exact which was shorter than I had initially expected.
Picton is known as the gateway to the South Island due to its close proximity and relationship with the capital, Wellington on the North Island. Tourists can travel between the two islands via the Interislander Cook Strait Ferry, a 92 kilometer voyage which takes approximately 3 hours.
With an intricate network of beaches, bays and islands… Picton is positioned perfectly for almost any type of water activity from sailing, jet skiing, kayaking, snorkeling and scuba diving for the more adventurous.
If getting wet doesn't excite you, but you would still like to learn about New Zealand's rich marine life in a family friendly environment, I recommend you visit Picton's Ecoworld Aquarium. Inside you'll be able to get up close and personal with little blue penguins, short-tail stingray, long-fin eel, elegant seahorses, red eared and snake neck turtles.
Resources:
DAY 4 ) Picton To Nelson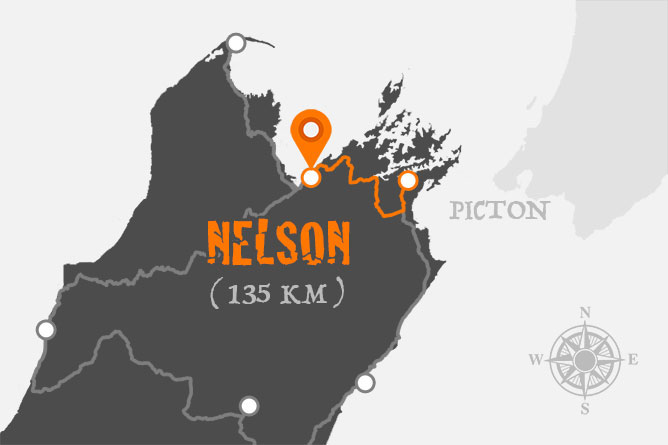 We could of easily spent a week sailing around Queen Charlotte Sound (Totaranui) and the surrounding islands, but after briefly savouring Picton's hospitality it was time to get back on the road travelling west to Nelson.
Driving Time & Distance:
1 hour 47 mins or 135 km (Picton – Nelson)
Guided by the water's edge of "Mahakipawa Arm", it wasn't long before Queen Charlotte Drive connected with State Highway 6 which then navigates its way through Mount Richmond Forest Park.
Nelson
An hour and three quarters after leaving Picton we reach the city of Nelson which is home to just under 50,000 residents. The region is known for it's local arts and crafts with galleries scattered around the heart of the city.
From painters, sculptors, glass blowers and world renowned jewellery makers like Jen Hansen who was commissioned to create the "One Ring" for the acclaimed "Lord Of The Rings" and "Hobbit" movie trilogies directed by New Zealand film maker Peter Jackson.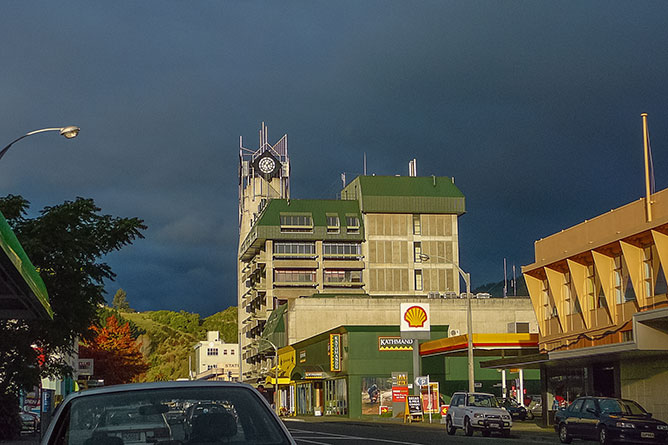 (Nelson City Clock Tower)
Nelson has many interesting attractions to keep you entertained during your stay. In particular, the Christ Church, Montgomery Square and Queens Garden are all within walking distance from the cities centre (Trafalgar Street).
Christ Church Cathedral contains impressive stained glass windows which date back to the late nineteen hundreds when the original church of the diocese was redesigned and rebuilt. The cathedral embraces an authentic pipe organ constructed by T.C. Lewis in 1871 and consists of 2,500 individual musical pipes.
If you'd like to discover something a little different than that found in the tourist shops of Trafalgar Street, I recommend visiting Montgomery Square which host The Nelson Markets on Saturday and Sunday's between 8am and 1pm. Here you'll unearth fresh, seasonal and organic produce from local farmers, plus you'll discover collections of handcrafted items from skilled artisans.
But if shopping isn't quite your cup of tea, don't worry because the city of Nelson is full of entertaining activities for the whole family.
Why not take a trip down memory lane at Founders Heritage Park where you can explore historical displays, ride the railway, climb into the cockpit of a freighter plane, sample craft beer or simply stroll around the gardens.
Or perhaps relax in the Miyazu Japanese Gardens whilst listening to the soothing sounds of trickling bamboo spouts and melodic cascades.
Both of these establishments are located 10 minutes northeast of the city centre on Atawhai Drive, off State Highway 6.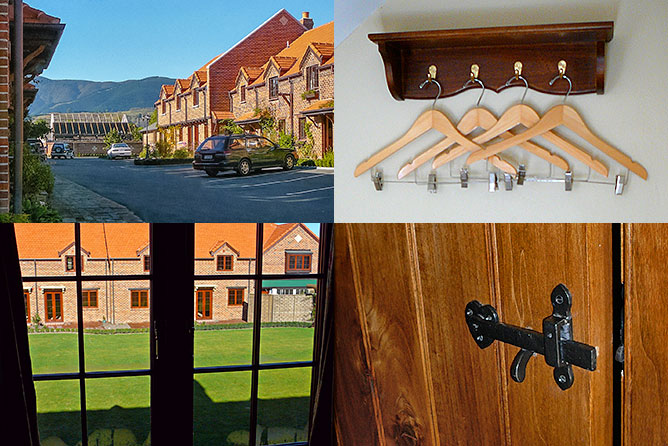 The accommodation I've experienced whilst travelling around the South Island of New Zealand has been quite varied from average to outstanding.
My accommodation in Nelson was memorable not because of the standard of quality or level of customer service, but instead for the unique village setting and tudor cottage design.
Our two bedroom, self-contained cottage was extraordinarily decorative, however I found the tile floors made the interior cold, destroying it's cosy appearance. But what the apartment lacked, the adjoining restaurant called the The Monaco Kitchen, soon made up for… I had ordered tuna steak (wrapped in seaweed with rice) for dinner and chef Jay Olsen didn't disappoint, because it was delicious.
DAY 5 – 6 ) Nelson To Golden Bay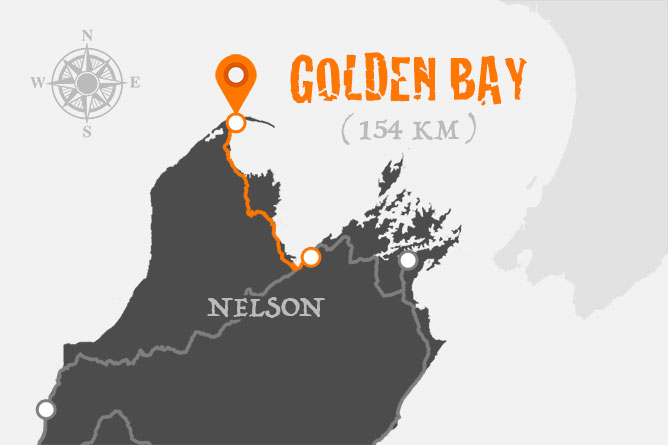 Since we arrived, Nelson has really grown on me… It's a city that continues to reveal unexpected surprises and is well-positioned for exploring the northernmost parts of the South Island.
We had deliberately planned to have an additional day in Nelson, but after a lot of thought we decided not to spend it strolling around the city, but instead to get back in the car and drive north for the day.
Driving Time & Distance:
2 hours 30 mins or 154 km (Nelson – Puponga)
It would be only a couple of hours before we run out of road (literally), but along the way we discovered a diverse wealth of natural wonders, all within arm's reach of Nelson.
Motueka Shipwreck
43 mins (46.6 km) up the road from Nelson is the town of Motueka. Only the second settlement to be established within the Tasman region by 1842, Motueka provided rich, fertile soils for farming and today the surrounding countryside grow apples, beer hops and kiwifruit.
Driving into Motueka, we decided to get off the coastal highway and explore the quay. I'm glad we did because after turning east onto Old Wharf Road, it wasn't long before something caught my eye… The "Janie Seddon Shipwreck" – The last surviving New Zealand military ship to have served in both World Wars.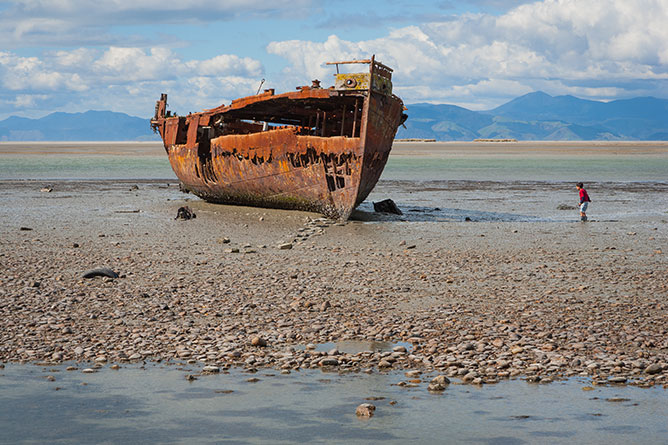 (Janie Seddon Shipwreck, Motueka)
Steeped in history, the "Janie Seddon" was built in Paisley, Scotland in 1901 for the New Zealand Government as a submarine mining vessel, but later became an examination vessel during war, before living out its final days as a fishing trawler. Eventually sold for scrap metal, the "Janie Seddon" was towed to the foreshore and beached in 1955.
Kaiteriteri Beach
A slight detour off Takaka Hill highway (Riwaka-Kaiteriteri road), we found ourselves driving north along the coastline. Not knowing exactly where we were heading, we were pleasantly surprised to discover the seaside community of Kaiteriteri.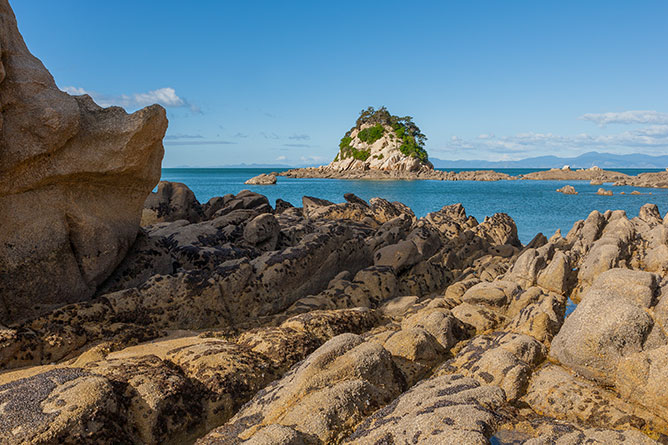 (Torlesse Rock, Kaiteriteri Beach)
Resting on the shores of Tasman Bay, the seaside town of Kaiteriteri is home to Kaka Island and Torlesse Rock, two very distinct and identifiable natural characteristics of the region. Arriving in the early afternoon the tide was low, revealing the sandstone foundation of Torlesse Rock which is stark in contrast to the shimmering, turquoise water.
It's still possible to go swimming throughout New Zealand's Autumn months as water temperatures can be quite tolerable and the seaside isn't overcrowded with thousands of beachgoers. However, I can imagine Kaiteriteri beach would be a very popular holiday destination for locals and tourists during the hotter, summer months.
Golden Bay
Back on the road again, we headed inland on State Highway 60 which journeys north between Kahurangi and Abel Tasman National Park before reaching the southern end of Golden Bay.
Golden Bay is most well-known for it's shallow, paraboloid shape which includes an extending arm that reaches towards Cook Strait.
As we continue driving north up the coast, we soon reach the conclusion of State Highway 60, however don't stop and turn around because the best is yet to come.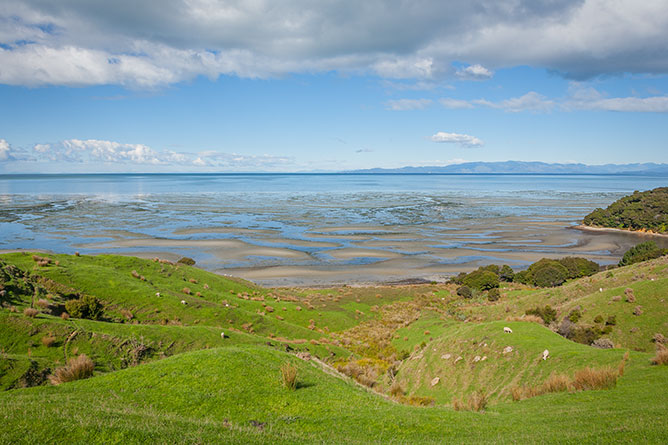 (Puponga Hilltop Walk, Golden Bay)
Whilst the highway may have ended, the road has not… Collingwood-Puponga Main Road will lead you to Puponga the northernmost settlement on the South Island. It doesn't look like much of a community, but then that's its attraction. Discreet, tranquil and surrounded by nature.
A short walk from the car park is Puponga Hilltop Walk which overlooks Farewell Spit, Golden Bay's extending arm. Whilst admiring the view, I attempted to get up close and personal with the locals, however these sheep weren't keen on having their photos taken.
Wharariki Beach (Puponga)
We almost missed what we were about to discover next… After jumping back into the car we took a detour down Wharariki Rd not knowing exactly what we were going to find.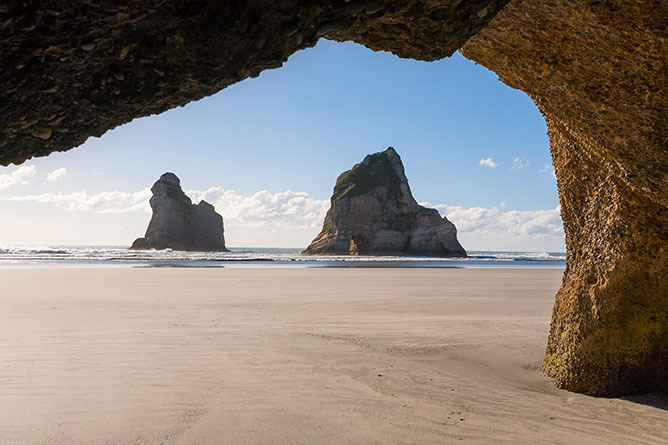 (Archway Islands, Wharariki Beach)
At the end of the road was a sign highlighting a short walk (1km) to Wharariki Beach. The walk begins with a steep incline up and over pastures of green with grazing sheep, but as we begin to descend from the hilltops the landscape dramatically transforms into sand dunes and native grass.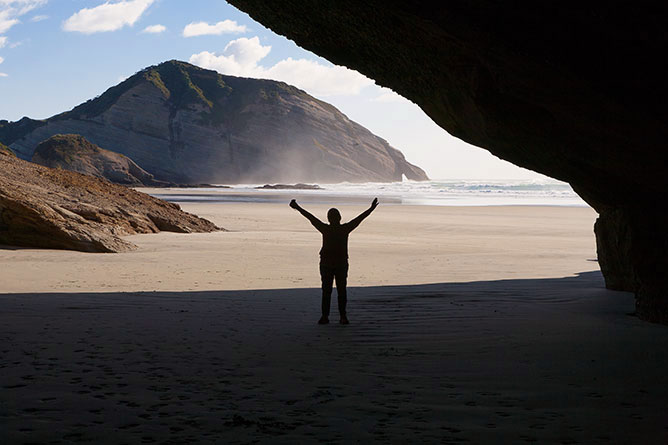 (Wharariki Beach Caves At Low Tide)
Wharariki beach is home to a variety of interesting attractions including Archway Islands, numerous caves, sheltered coves and apparently fur seals, although we didn't have the pleasure of their company on this sunny afternoon.
DAY 7 ) Nelson To Punakaiki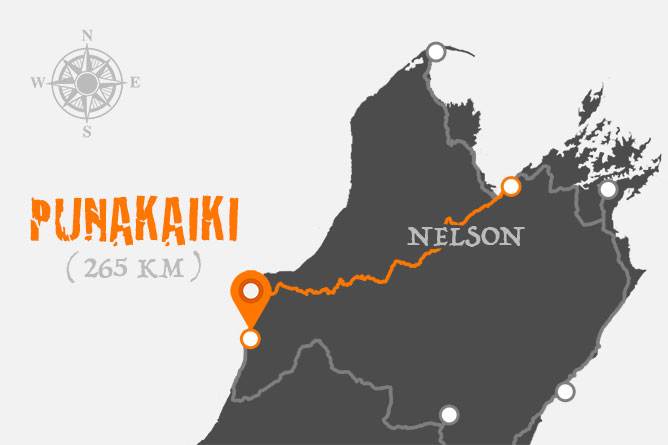 Leaving Nelson after only 3 nights was a little heart breaking, I don't believe we spent enough time fully exploring its hidden treasures.
As we began to gain momentum heading southwest towards Punakaiki on State Highway 6, the road converged with Buller River and after speaking with the local residents of Murchison, I learnt that this stretch of river is extremely popular for trout fishing.
Driving Time & Distance:
3 hours 36 mins or 265 km (Nelson – Punakaiki)
It shouldn't really have come as a surprise considering its close proximity to Lake Rotoroa and Lake Rotoiti nestled on the edge of Nelson Lakes National Park. However, what I did find surprising was the National Park is also home to Rainbow Ski Resort which I believe is the northernmost ski area on the South Island of New Zealand.
Shortly after leaving Murchison, we reach Buller Gorge where adventure seekers come to walk across New Zealand's longest swing bridge, ride the flying fox, experience jet boating or try panning for gold.
Westport
Reaching the west coast, we turned off the highway into Westport, a small industrial town of around four thousand residents. In search of supplies for the next couple of days, it wasn't difficult to find the local supermarket on the main road.
It's my understanding that although Westport was originally established as a gold mining town, coal mining quickly became the town's economic lifeblood during the late nineteen hundreds. Today, a lot of Westport's mining history can be observed at the Coaltown Museum on Palmerston Street.
Cape Foulwind Seal Colony
10 kilometers east of Westport is Cape Foulwind, a prominent headland which overlooks the Tasman Sea. It's home to a colony of fur seals (Kekeno) which can be seen from one of the many designated walkways that adorn the coastline. If you're lucky you might even catch a glimpse of the rare, Sooty Shearwater Seabirds and Blue Penguins that also inhabit the rocky shoreline.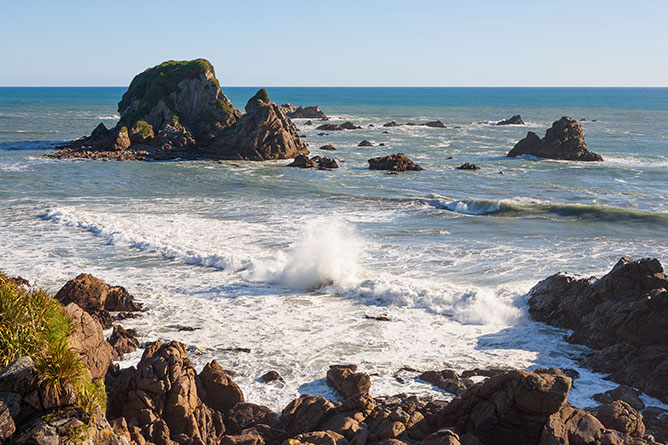 (Wall Island, Tauranga Bay)
Whilst exploring the headland, don't forget to visit the lighthouse. First lit in 1876, the original lighthouse (made from rimu) suffered from rot and was replaced with a new concrete tower in 1926. Unfortunately, I didn't have time to walk the 2.9 kilometer track and therefore didn't have the opportunity to photograph the lighthouse. However, I'm sure it would have been worthwhile.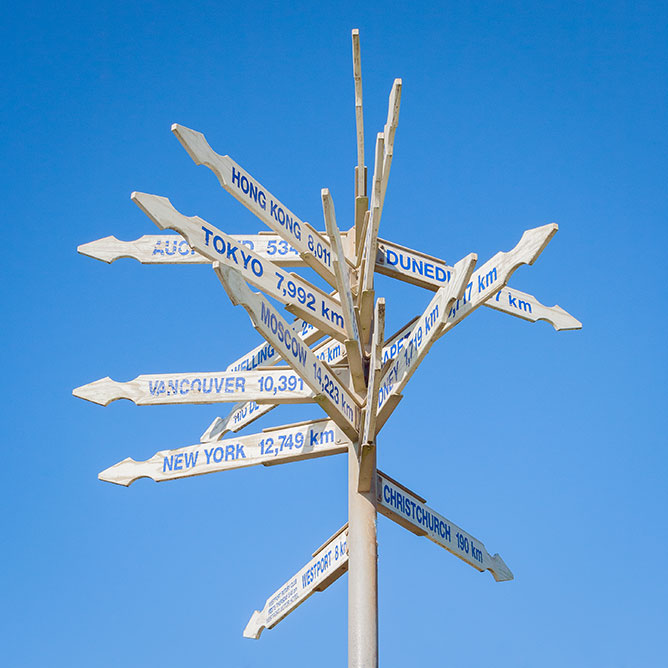 Whilst I enjoyed visiting the isolated seal colony of Cape Foulwind, I was relatively happy to see Westport in the rear view mirror… It's definitely not the type of town I would recommend holidaymakers go out of their way to experience, however it's perfectly suited as an interval or rest stop between destinations.
Punakaiki
Driving down the west coast towards Punakaiki, the roadside vegetation begins to dramatically transform into subtropical forest with exotic-looking Nikau Palms. The change in scenery can be attributed to Paparoa National Park which is an indication that we were getting close to arriving at our destination.
The national park surrounds Punakaiki, a small community best known for Pancake Rocks, layers of heavily eroded limestone which act as blowholes during high tides.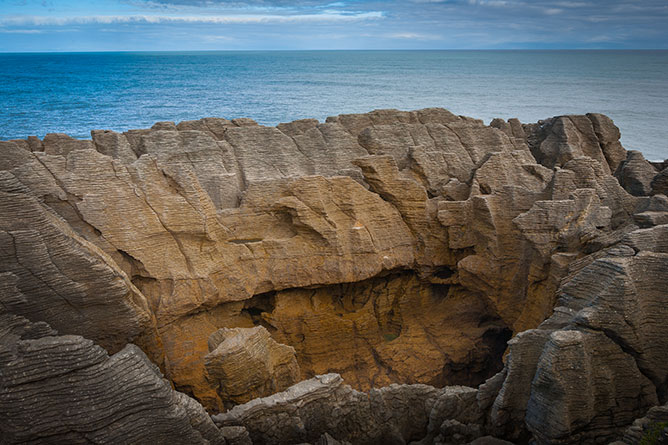 (Pancake Rocks & Blowholes, Punakaiki)
Located south of the main village (Dolomite Point), Pancake Rocks is an easy 20 minute walk from the car park where you'll also find the gift shop, cafe and toilets.
Whilst staying in Punakaiki, I found that there wasn't a lot of chose in the way of cuisine of an evening. If I had to choose, I would recommend Jacob's Grill Restaurant over the local tavern especially if you don't want to eat frozen food.
Across the road from the apartments where we were staying is Punakaiki Cavern which extends 138 metres into the limestone cliff. The cavern features glowworms, ancient fossils and stalactites, hanging formations that are formed when minerals like calcium carbonate drip from the cave ceiling over thousands of years.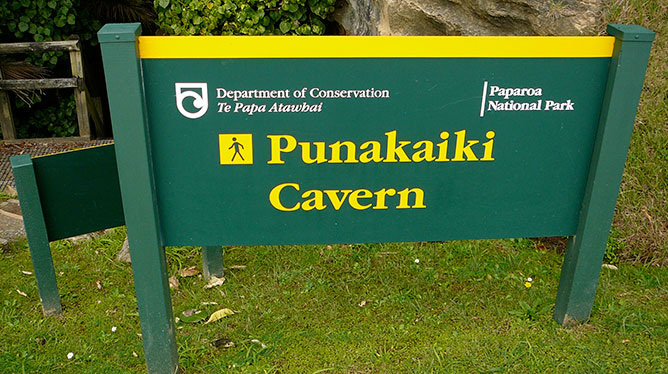 (Punakaiki Cavern, Paparoa National Park)
I was eager to explore the cave system for photographic opportunities, but it wasn't long before I realised that I was totally unequipped to continue any further without risking my safety.
With inappropriate footwear, no hardhat or torch I decided to turn back… I later found out that day that the resort offered equipment (eg. torches) for guests interested in an underground adventure.
Resources:
DAY 8 ) Punakaiki To Hanmer Springs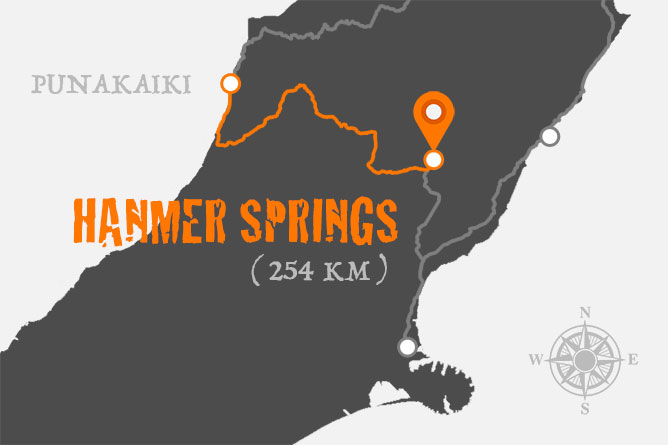 I was excited to be back on the road, the coastal weather had quickly become cold, wet and windy overnight. I didn't notice anything overly interesting or memorable as we travelled by car half an hour down the road to Greymouth. Whilst ordinarily this would leave me feeling disheartened, I wasn't phased because somehow I knew I would return to Punakaiki to explore Paparoa National Park.
Driving Time & Distance:
3 hours 9 mins or 254 km (Punakaiki – Hanmer Springs)
We had originally stayed in Greymouth on the first leg of our journey, after negotiating the Southern Alps on the Tranzalpine Express from Christchurch. We chose not to go into town, but instead get off state highway 6 (Coast Rd) and go east along State Highway 7 (Main Rd) following the Grey River (Mawheranui) as we headed inland towards Hanmer Springs.
An hour and half (115.9 km) after setting off mid morning, it was time to refuel and take a well earned lunch break in Reefton which was the first town in New Zealand and the Southern Hemisphere to receive electricity in 1888.
With our hunger fed and our vehicle fuelled we got back on State Highway 7 heading east through Victoria Forest Park, 206,000 hectares of pristine beech forest.
Hanmer Springs
On the grassy plains of Canterbury, we turn off State Highway 7 (Lewis Pass Road) onto Hanmer Springs Road where we get our first glance of the regions adventurous spirit. We cross Waiau River which hosts a variety of thrill seeking activities from bungy jumping, jetboating, white water rafting and canoe safaris.
The town center is adorned by corridors of trees that create a unique alpine village atmosphere which in Autumn produces a stunning spectacle of color and warmth. The entrance to the thermal pools and spa reside directly across the street from the local cafes and shops on Amuri Ave.
We stay in Clear Ridge Apartments just off the main street and next to the golf course. At the time, I remember feeling quite impressed with the presentation and furnishing of the apartment which were very attractive.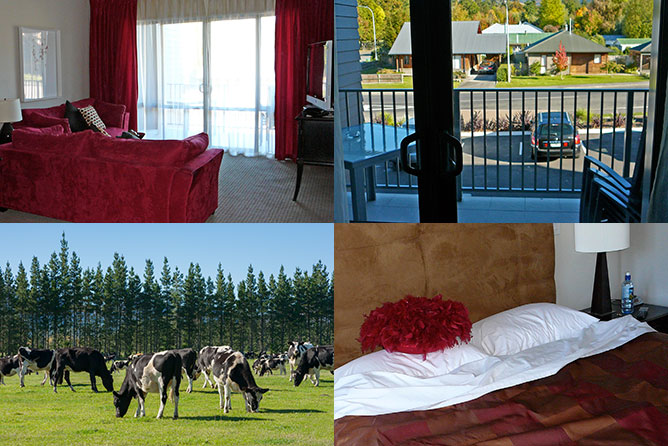 (Clear Ridge Apartments, Hanmer Springs)
On day two, we stumbled across Village Cruisers who rent tandem, four wheel bicycles to holidayers. We couldn't give up the opportunity to explore the heart of Hanmer Springs whilst riding an excitingly, unusual contraption. Unfortunately my initial enthusiasm soon wore off, it can be quite an exhausting activity when no one else pedals.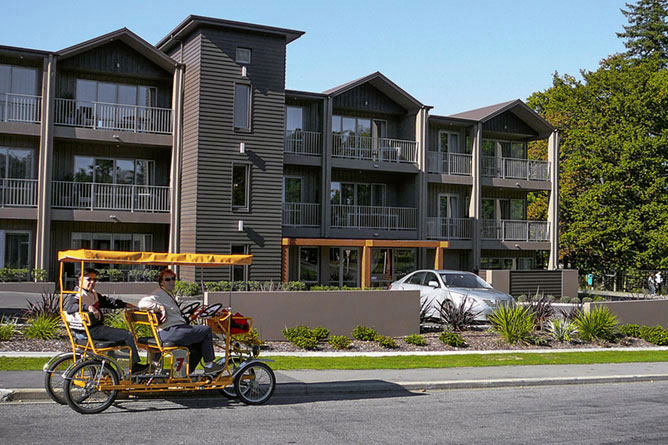 (Exploring Hanmer Springs On A Village Cruiser)
After building up a sweat riding around town, I had earnt a relaxing afternoon bathing in the hot thermal pools. I wasn't sure what to expect, however I was excited to experience the therapeutic qualities of the mineral rich waters for the first time. The park consists of different temperature sulphur pools ranging from 40 – 42 degrees celsius, plus water slides to keep the children entertained. The afternoon temperatures at the end of Autumn were still quite cool around 4 – 14 degrees celsius which made bathing outdoors quite pleasant.
DAY 10 ) Hanmer Springs To Christchurch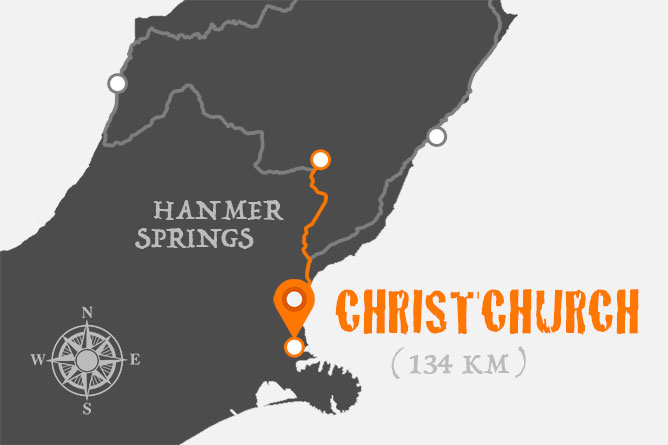 After backing our bags into the boot of the car and returning our keys to the apartment it was time to say goodbye to Hanmer Springs.
As we got back onto State Highway 7 (Mouse Point Road), our journey took us southeast following the Waiau River which navigates over the last mountainous regions before reaching Canterbury Plains.
Driving Time & Distance:
1 hour 46 mins or 134 km (Hanmer Springs – Christchurch)
Whilst travelling around the South Island of New Zealand for 10 days, I had expected to see my fair share of sheep, especially considering at the time agricultural surveys that were conducted recorded approximately 30 million sheep in the country.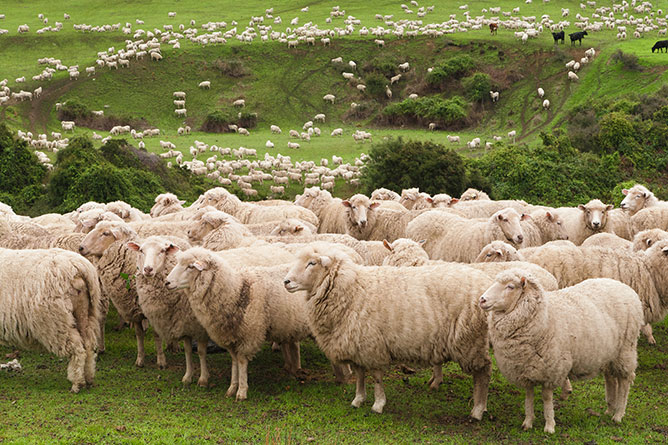 (Flock Of Sheep, Canterbury Plains)
But, it's not everyday that a photographer has the opportunity to photograph what appeared to be hundreds, if not thousands of sheep close by the edge of the road.
Canterbury Plains
As you may have read earlier, I had the opportunity to go hot air ballooning at the beginning of my holiday, but unfortunately due to bad weather conditions the flight was postponed.
Fortunately, we had planned to stay in Christchurch for a couple of days prior to returning home. With additional time up our sleeves, we were blessed with another opportunity to take flight beneath crystal clear, blue skies.
For obvious reasons Canterbury Plains is perfect for hot air ballooning, it's close to Christchurch and has vast, open countryside suitable for flying without considerable hazards.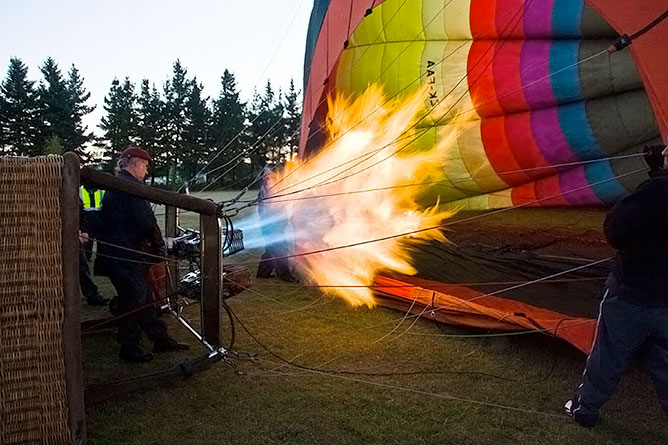 (Hot Air Inflates The Nylon Fabric Of The Balloon)
After the pilot had launched a weather balloon to test atmospheric currents, he gave confirmation to begin unpacking and assist with inflating of the hot air balloon.
Taking off was considerably gentle, although I hadn't given much thought to the inevitable landing and wasn't quite sure what to expect.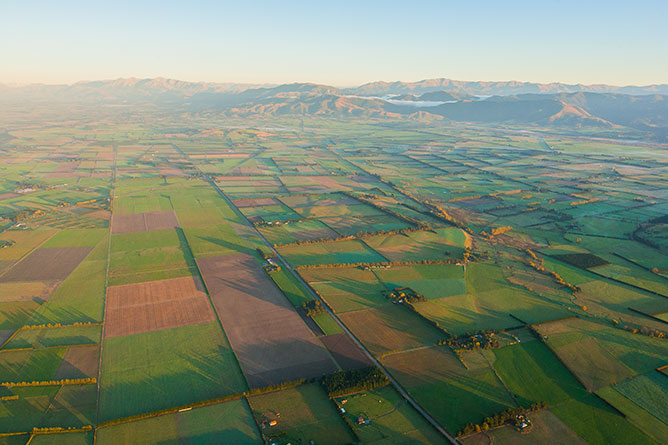 (Hot Air Ballooning Over Canterbury Plains)
Floating high in the sky, Canterbury Plains resembles patchwork that highlights every shade of green from the Pacific Ocean to the Southern Alps, well worth the endeavour of waking up early.
Upon landing the wicker basket finally came to rest on it's side which as you can imagine was quite uncomfortable for the occupants.
Waipara
Arriving at an intersection with State Highway 1, we leave Waipara in the rear view mirror heading south towards our last destination, Christchurch.
The word "Waipara" when translated means "Muddy Water" and is indicative of the rich fertile soils on which the region's vineyards and olive groves thrive, decorating the surrounding countryside.
Unfortunately, we were a couple of months late for the Waipara Valley Wine and Food Festival (held early March) which I would have liked to attend. I've always appreciated the opportunity to wander around market stalls whilst indulging in local produce, but sadly it wasn't to be…